Grilling foods is a great way to make everyone closer to parties, events, or simply family meals. Delicious meat and a unique charcoal-grilled flavor are what people hope. The best charcoal grills below will meet such expectations.
Efficient, portable, and user-friendly, charcoal grills bring a primal experience with slow-cooking style, burning fire, and charcoal. Hence, it is hard to resist the lure of incredible aromas from these grills.
Walk around shopping malls or e-commerce sites, and you can look at plenty of charcoal grills. However, you just want to buy a product that fits your needs the most. So how now?
Do not worry about it since my post gives you the top 15 best cooking appliances. You will not waste time because I did that for you.
Without hesitation any more, let's go!
What Is Charcoal Grill?
A charcoal grill is an outdoor cooking device. It uses charcoal briquettes or natural lump charcoal as primary fuel power. The charcoal will convert into embers for heat radiation when burned. Hence, you can cook food.
The briquettes feature the uniformity in size, burning speed, even heat creation, and high performance. On the other hand, the natural lump charcoal infuses a smoked aroma and efficient heat production.
Besides, the briquettes usually have binders and fillers, while the natural lump charcoal does not.
This grill type has various configurations. Some grills are square, while others are round-shaped design, even a rectangular model. Charcoal grills can include lids or not, and they might or might not have ventilation holes, depending on their versatility.
Compared to gas or electric grills, charcoal grill takes more time to cook, start-up, heat control, and clean. However, the results from grilling with charcoal are excellent that gas or electric grills fail to achieve.
They can come with portable wheels for ease of transportation. Besides, several modern devices are equipped with advanced features, such as a digital control system, push-button ignition, side firebox, consistent air setting, or infrared technology.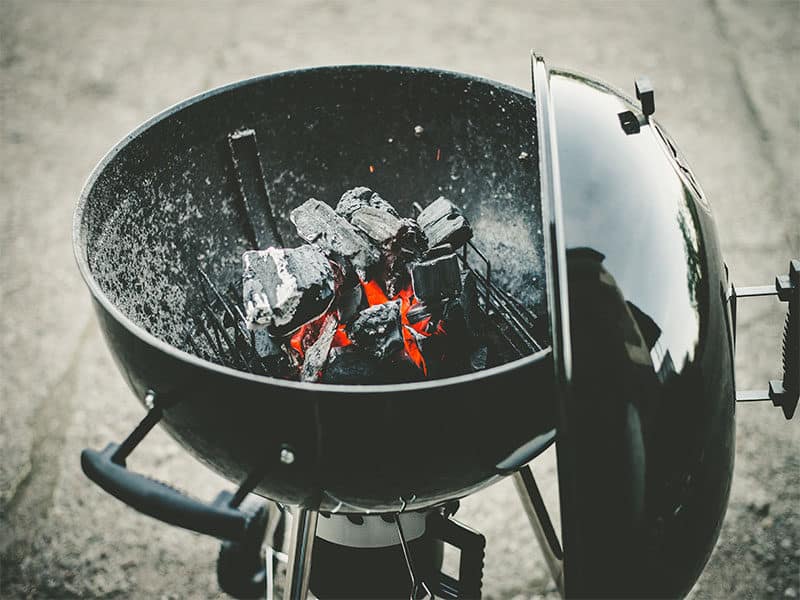 Types of Charcoal Grills
There are a total of ten types of charcoal grills on the market now. It shows the variety of this product line. Each type has its characteristics to help it stand out when placed together with other models.
Three of them, including kettle, barrel, and ceramic, are products you can find the easiest today. They are popular with consumers, often have outstanding advantages, and come with many utility options.
Here is a summary of the current charcoal grills classification.
Kettle
Its design is professional. The kettle grill is a circular model with a domed lid, a charcoal grate, upper grilling room, round lower fuel area, and legs.
This type of grill includes vents and wheels. Thanks to a round-designed lower chamber, it provides heat evenly over the grilling space. Besides, the domed lid closes for convection and efficient airflow circulation.
Barrel
The barrel grill is made from a 55-gallon steel barrel sliced in half lengthwise. The hinges are mounted to divide into two half forms as lid and charcoal room.
It has a chimney on the top lid and a set of vents for ease of internal heat control. It can use charcoal or wood as the main fuel source.
Ceramic Cooker
This product is made of clay and ceramic for efficient heat and moisture retention. It is an oval-shaped design with a domed lid.
It is ideal for slow-cooking style to create grilled and smoked barbecue. It is well-known in the form of a kamado grill.
Portable Charcoal
These grills are compact, lightweight, primarily square, or rectangular. They are designed for ease of transport and storage. Most of them come with portable wheels or collapsible legs.
This type often includes a lid, vents, and legs made of steel or other solid metals. Some devices do not have venting holes or ashtrays. Instead, they are designed to be relatively airtight to contain after use.
Brazier
This version does not have lids and vents. It provides a metal pan refilled up charcoals placed underwire or mesh cooking grid. The way of heat adjustment is to move the cooking grate up or down.
Besides, it is quite small, round or square, and inexpensive. This simple grill type is still found in discount stores.
Pellet
You use wood pellets to put in a hopper. An electric ignition burns the pellets to coals. This grill can create a smoke effect at a low temperature of between 90 and 160°F.
It is often used in combination with smoking. Besides, wood pellets enhance your different experiences with many flavors, such as maple, apple, or oak.
Square Charcoal
This model is an excellent combination of kettle grills and brazier. It has a lid, adjustable vents, sturdy legs, and mobile wheels. It primarily excludes additional parts, such as a table, extra shelves, or charcoal baskets.
Hibachi
This grill type typically made of cast-iron, aluminum, or steel. It simulates the Japanese grilling style. Hibachi grill features a flat surface without lids.
The cooking grids are adjustable to move up or down for heat control. The grill is very compact and portable.
Cart
Cart grill is mainly a rectangular-shaped model. It is equipped with a hinged lid, grilling grates, charcoal grid, wheels, side shelves, and storage tables. It also has an ash drawer for dumping after use.
It is efficient for indirect cooking and relatively expensive.
Tandoor Oven
This grill typically uses wood for cooking foods. Meat is skewered and then put into the tandoor oven from above.
The temperature can rise very fast over 500 degrees to save cooking time.
Which Are The Best Charcoal Grills?
My post is a suggestion for you to come quickly to a decision. Grasping the best charcoal grills labeled along with their brief descriptions is critical. Do not pull down without reading.
Charcoal Grills Comparison Chart 2021
Before going to the reviews, you should look at the best charcoal grills with additional specifications shown in the chart below.
Top 15 Best Charcoal Grills Reviews in 2021
This is the most notable part of my post, where you find any aspect of the best charcoal grills mentioned, particularly their benefits and drawbacks. Let's dig in right now!
1. Weber Kettle 22 Inches Charcoal Grill
(Best Overall)
Weber offers this charcoal grill with premium characteristics, including direct heat grilling, precise temperature control, and high-quality construction. Besides, Weber is a top brand in providing cooking grills. You can trust its products.
With a 363-square inch grilling surface, this device can be filled up to 13 hamburgers at once. You do not need to move or turn your foods while grilling, just spins cooking grate to expose foods for higher or lower heat adjustment.
It cooks steaks with the direct heat efficiently. Furthermore, when you close the top lid, this equipment will smoke meat well. It comes with aluminum dampers, allowing for heat control.
The appliance features an integrated thermometer to monitor the temperature inside and adjust it as your preference.
Besides, you can put more charcoals quickly, thanks to a hinge. You clean ashes without worries about a mess since an ash catcher help you do that.
The lid and bowl are made of porcelain-enameled for perfection. The cool-touch handle protects your hands from the risk of burning.
Key Features:
Hold up 13 hamburgers
The round design
A built-in lid thermometer included
One-touch cleaning system with high-capacity ash catcher
Porcelain-enameled lid and bowl
The cooking grate is hinged
3D interactive assembly instructions
Come with Dampers, hinge, lid hook, vents, three legs, and two wheels
Pros
Excellent temperature control
Perfect for even heat distribution and convection
Quick to check the temperature with a thermometer
Simple assembly
Easy to clean up after cooking
High-grade materials
Versatile cooking
Convenient to access the charcoals without interrupting the grilling process
Flexible to adjust the airflow circulation with ventilation holes
Reasonable price
Clear instructions
Create nice grill marks on the foods
Space-saving for storage
Rust-free
Cons
Wheels are relatively small so that it is hard to move the charcoal grill on an uneven surface
Not ideal for large meals due to the medium size
Legs seem to be tough to install
Product Specification:
| | |
| --- | --- |
| Brand | Weber |
| Materials | Porcelain-enameled steel bowl, plated-steel grilling grate, heavy-gauge steel charcoal grate, porcelain-enameled lid, glass-reinforced nylon handles, aluminum ash catcher, and aluminized-steel one-touch cleaning system |
| Shape | Spherical |
| Warranty | Ten years |
Click the video below to see how to assemble this charcoal grill. Check it out. Why not?
2. Weber 160 Square Inches Charcoal Grill
(Best Budget)
Maneuverable, lightweight, efficient, this charcoal grill is an ideal solution for picnicking, tailgating, and camping. If you have a limited budget, it is a top pick among the simple models as possible.
It has two dampers to adjust the accurate temperature quickly. Besides, it has a shallow cooking area of 160 square inches wide to grill foods faster, such as steaks, hotdogs, pork, and veggies.
It can accommodate about six burgers simultaneously. It is perfect for a couple, a small family, or a few people at a party.
The product weighs less than 15 pounds to take it wherever you want. Its neat design helps you place it in the back of your car simply.
The cooking grates are equipped with a coating to prevent foods from burning or sticking to the grids. Thanks to that coating, you can clean grates quickly after use.
This product is fuel-saving but still creates an authentic charcoal-grilled flavor. Besides, you can close the lid for smoke and heat retention. Hence, the grilling time can shorten efficiently.
More notably, a cool-touch handle helps you access the cooking space and hold hot items without getting burnt.
Key Features:
The locking lid
Hold up to six hamburgers
Porcelain-enameled lid and base
Two dampers
Durable plated steel cooking grate
3D interactive assembly instructions
Pros
Impart a distinct charcoal-grilled taste while grilling
Budget-friendly
Durable construction
Quick to cook with a shallow cooking unit
Perfect for storing with a compact model
Portable to use and transport
Easy assembly instructions
Excellent for the slow-grilling style
Possible to use in urban areas
Use less charcoal for each grilling time
Maintain the heat inside the grill efficiently
Cons
The grilling surface is not large enough to cook for a big-sized group
The legs might bend, or even misshape for a long-term
The grill may melt the surface that you place it on because its legs are too short while the bottom fuel zone is boiling
Lack of a hinge so that you have to take the lid out to check the foods inside
Product Specification:
| | |
| --- | --- |
| Brand | Weber |
| Materials | Durable plated steel cooking grate, a glass-reinforced nylon handle, the nickel-plated legs, and porcelain-enameled lid and base |
| Shape | Rectangular |
| Burners | 1 (disposable 1-pound LP cylinder) |
| Warranty | Ten years |
Watch the following video to know the way of assembly and grilling with this charcoal grill:
3. Weber 18 Inches Charcoal Grill
(Best Portable)
With only 18 pounds of weight, this charcoal grill is a perfect choice for transport and travel. It receives plenty of positive reviews about its portability and compact size.
Its cooking space can fill up to eight burgers for meals. This bowl-shaped design with a top lid allows for heat convection. Hence, you can grill foods fast with even internal heat distribution.
The porcelain-enameled coating protects the grill from rusting and peeling. Besides, it is perfect for heat retention and ease of cleaning.
Grilling grates are made of plated steel to reduce the risks of corrosion or food-sticking during use.
This grill infuses you with an authentic smoky taste with cooking by burning charcoal. Notably, you can use dampers to check the temperature whenever you want.
The Tuck-N-Carry lid lock allows you to look at the foods inside the cooking chamber without putting the lid on the ground.
Key Features:
The compact design
Hold up to eight burgers
Lightweight for grilling on the go
Porcelain-enameled lid and bowl
The Tuck-N-Carry lid lock
Come with dampers
3D interactive assembly instructions
Heavy-gauge steel charcoal grate
Lid handle with heat shield
Aluminum ash catcher
Pros
Convenient to move, carry, and store
Easy to assemble
Expected to use for a long-term with a durable, high-quality build
Affordable price
Cook foods with a charcoal-grilled flavor
Control the process of smoke escape with adjustable dampers
Quick to clean with a handy ash catcher
Compatible with most Weber accessories
Fuel-saving
Safe transportation
Cons
The legs are not as stable as expected
The grilling room is too small to cook large-sized foods comfortably
Lack of wheels for more portability
Lack of a thermometer for accurate temperature measurement
Product Specification:
| | |
| --- | --- |
| Brand | Weber |
| Materials | Porcelain-enameled lid and bowl, a plated steel cooking grate, a glass-reinforced, nylon handle, and aluminum ash catcher |
| Shape | Spherical |
| Warranty | Ten years |
See the video below at the moment to find more reviews related to this charcoal grill:
4. Weber 14 Inches Charcoal Grill
(Best Small-Size)
If you do not have a full-sized space for grilling, you should buy this charcoal grill once reading my review part. It weighs only 9.5 pounds and has a 147-square inch cooking room. Trust me, and it suits you better than any product currently available.
As you know, this grill is lightweight and compact. You can use it for narrow space, such as your apartment balcony, a dorm, or a small kitchen corner. Besides, do not miss it in tailgating parties or camping because of its portability.
The hooded design allows for an efficient heat convection mechanism. Hence, your foods are tender, moist, and cooked on both sides.
Despite the lack of a thermometer, you can rest assured partly because this device has plenty of adjustable vents for temperature control. These holes also help light the charcoal.
The porcelain-enameled covering prevents rust when using the grill in a hot condition.
You will smell a smoky taste when cooking. With recipes and tips that come with the product, you can grill ribs, steaks, hamburgers, chicken, and pork.
Key Features:
Accommodate up to five hamburgers
Compact and lightweight
Porcelain-enameled lid and bowl
Rust-proof aluminum dampers
Durable plated steel cooking grate
Four adjustable vents and a lid handle
Come with cooking recipes and tips
Pros
Portable to move around and use
Perfect grilling capacity
Reasonable price
The legs are foldable and adjustable
Simple assembly in a few minutes
Use less charcoal
High-grade build
Excellent smoky flavor
Convenient to control the internal heat distribution with a ventilation system
Easy to clean up after use
Great polish
Space-saving
Cons
The legs are relatively weak, and easy to bend and wobble
Do not have a built-in thermometer for obtaining a precise temperature
Take too much time to prepare charcoal and set up
Small grilling room
Product Specification:
| | |
| --- | --- |
| Brand | Weber |
| Materials | Glass-reinforced nylon handle, porcelain-enameled lid, and bowl, durable plated steel cooking grate, and rust-resistant aluminum dampers |
| Shape | Spherical |
| Warranty | Ten years |
As soon as the following video is watched, buy this charcoal grill immediately:
5. Lodge Pre-Seasoned Cast Iron Charcoal Grill
(Best Cast-Iron)
This charcoal grill is made of sturdy cast-iron. Thanks to this construction, it distributes quickly and evenly. Besides, this product has the hibachi-cooking style, giving you an exciting experience of grilling foods over an open space.
This device works with free of rust and is designed to use for the long-term. Grilling grates are pre-seasoned to cook any kind of food with a distinct taste.
What's more, a three-way adjustable model creates a perfect cooking versatility. You just move grate heights up to or down to adjust the cooler or hotter heat intensity.
With its compact design, it suits the back of most cars for transport and storage. Besides, you can remove parts of this grill for ease of cleaning.
Furthermore, while a draft door controls air circulation, a flip-down door is where you access charcoal quickly.
Key Features:
Pre-seasoned cast-iron
Come with a draft door and a flip-down door
Superior heat retention
Two adjustable heights
Sliding mechanism enhances airflow
Pros
High-quality material
Easy assembly
Pre-seasoned with 100% vegetable oil
Easy to clean up
Portable to use
Effective to regulate heat
Come with four stable legs
The model is removable and adjustable
Perfect size
Compact storage
Experience the sizzle while cooking
Creates nice grilling marks
Fuel-saving
Cons
High price
Quite heavyweight
Need to maintain frequently
Require a regular seasoning
Cheap handle
Lack of replaceable parts
Foods may slide off
Product Specification:
| | |
| --- | --- |
| Brand | Lodge |
| Materials | A natural easy-release finish, and seasoned cast-iron |
| Shape | Rectangular |
| Warranty | N/A |
Click the video below to discover assembly steps and enjoy steaks cooked by this grill:
(Best Dual Zone)
This charcoal grill has two single cooking areas. It has a removable firebox divider to separate the unit in half.
You can control the temperature in different ways through adjustable charcoal trays, the smokestack, dual vents, and steel cranks.
You can add or remove charcoal through two front doors. Ashtrays allow for cleaning quickly after cooking. Besides, the grill features two side tables and a bottom rack for extra storage.
With a large total grilling space, if you remove the divider, the product can fill up to 30 hamburgers. It is ideal for big parties, festivals, or events in which countless people will attend.
Furthermore, it is equipped with a double-wall liner, an integrated thermometer, a basket, wheels, and a bottle opener.
Key Features:
Removable firebox divider
Dual cooking zone
Removable high-capacity ashtray
Adjustable charcoal trays
The steel cranks, a smokestack, and quick-access front door
Supply with side shelves, a bottom rack, a built-in thermometer, a storage basket, portable wheels, and a bottle opener
Pros
The excellent double charcoal lift system
Easy to dump ashes and clean after use with an ash pan
Versatile to control the heat distribution and air flow circulation
Perfect to a large group with an ample grilling chamber
High-grade materials
Simple to assemble based on clear instructions
Quick to burn charcoal
Portability with four wheels
Cons
The model could leak a bit, and several parts do not seal completely
The cover seems not to line up correctly
Require many modifications for better operation
Product Specification:
| | |
| --- | --- |
| Brand | Dyna-Glo |
| Materials | Porcelain-enameled cast-iron cooking grates and stainless steel cranks |
| Shape | Rectangular |
| Warranty | One year |
See the following video right now and explore any detail of this charcoal grill:
7. Royal Gourmet 800 Square Inches Charcoal Grill
(Best for Camping)
This charcoal grill is one of the most suitable products for camping trips because of its large grilling space, dual cooking style, and portability.
With an 800-square inch cooking chamber, it serves for a crowd simultaneously with various foods, such as steaks, hamburgers, hotdogs, shrimps, pork, and veggies.
It is a combination of a grill and an offset smoker. You merely add lump charcoal, briquet, or wood chips for an authentic flavor.
A bottom rack and two side tables allow for extra storage. Two wheels help you move it around without any hassles.
You will be pleased with two dampers since they can adjust the temperature as your liking. The heat is dispersed evenly inside the cooking room, allowing for more tender, moist, and tasty meat.
It comes with an access door for adding fuels and an ashtray for dumping ashes easily. More notably, I believe its high performance will make you satisfied during cooking.
Key Features:
Porcelain-coated steel wiring grates
Chrome-plated warming rack
An access door and an ash pan
The dual style of grilling and smoking
Supply with a smokestack, a temperature gauge, a scald-proof handle, a seamless connection, a side air vent, and wheels
Withstand the temperature of up to 400 degrees
Pros
Compact design
Flexible to use
Quick to adjust the internal heat
High-quality construction
Perfect barbecue with a smoky taste
Reduce the risks of rust and corrosion during use
Extra space for items storage and food preparation
Easy to clean ashes after use
Portable to move it around and transport
Durable
Cons
Do not include an independent thermometer mounted over each chamber
Difficult to perform step-by-step since the instruction has plenty of misprints
Legs are labeled incorrectly
The unit could be leaky because air gaps do not seal
Product Specification:
| | |
| --- | --- |
| Brand | Royal Gourmet |
| Materials | Porcelain-coated steel wiring grates, chrome-plated warming rack, and scald-proof handle |
| Shape | Rectangular |
| Warranty | N/A |
Watch the video below to know the process from unboxing to the first cook with this grill:
8. Char-Griller Kamado-Style Charcoal Grill
(Best for Smoking)
Char-Griller delivers a small charcoal grill with Kamado-style cooking. You enjoy steaks with high heat or experience a slowly-grilled barbecue at a lower temperature simply. It is ideal for small groups or families.
Insulated design helps you cook juicy smoked meat. I hope you are pleased with this product since it saves fuels efficiently, while the heat radiates a lot. Air flow circulates under tough control.
An indexed damper is numbered, allowing for its precise location positioning. When you close the lid, the heat and moisture are retained inside the chamber to cook foods evenly with a full of smoky taste.
Besides, the device comes with two folding side shelves for extra preparation space, and portable wheels mounted on three legs for ease of transport.
Key Features:
The insulated design with a double wall
The indexed damper is numbered
Supply with two folding side tables, a cart, three wheels, a locking lid, a heat gauge, and utensil hooks
Pros
Affordable price
Durable grilling grates
Efficient heat retention
Very portable to use and move it around
Ideal for grilling foods with a kamado grilling style
External space is very cool while you are cooking food at a high temperature
High-grade materials
Cons
Quite heavyweight
If you want to follow the low-and-slow cooking style, you have to buy a smoking stone. Thus, the cost raises for this item
The gaskets might leak when in use
Flimsy stand
Some parts of the smoker need modifications during the usage process
Product Specification:
| | |
| --- | --- |
| Brand | Char-Griller |
| Materials | Cast-iron cooking surface, 22-gauge steel body, powder-coated steel exterior finish, porcelain-coated steel interior finish, tubular steel w/rubber wheels, and folding black metal shelves |
| Shape | Egg |
| Temp range | From 200°F to 700°F |
| Warranty | One year |
Click the following video right now to discover more details related to this charcoal grill:
9. Kamado Joe Classic II Charcoal Grill
(Best for Searing)
This charcoal grill allows you to sear meat at 750°F easily. This is an impressive figure. It also smokes foods from 225°F.
Its smart design holds heat and moisture efficiently and simplifies temperature control. This half-moon model helps you cook various foods with different cooking styles at once.
When you open or close the dome, you still keep a consistent air setting to control airflow accurately, thanks to vents.
Powder-coated cast aluminum can withstand rain and mold when in use. Besides, an airlift hinge tends to reduce the dome weight by 96%.
It has two side shelves for prep space, and hooks for hanging necessary items.
Key Features:
Divide and conquer the flexible cooking system
The half-moon design
Kontrol Tower top vent
Powder-coated cast aluminum
Rain and mold-resistant
Smoke from 225F to sear at 750F
Patented airlift hinge
Come with a cart and locking wheels, a mesh gasket, and a latch
Pros
Easy to clean with a removable ashtray
The grilling system is very neat
An excellent ceramic divider for dividing the firebox
Simple assembly
Convenient to grill, bake, and smoke
Premium materials
Powerful cooking capacity
Cons
Heavyweight
The medium size is not suitable for a large group
Hard to roll with too small casters
Product Specification:
| | |
| --- | --- |
| Brand | Kamado Joe |
| Materials | Cast-iron cart and locking wheels, powder-coated cast aluminum top vent, fiberglass mesh gasket, and stainless steel latch |
| Shape | Egg |
| Temp range | From 225°F to 750°F |
| Warranty | Five years |
See the video below to discover more aspects of this charcoal grill, then check out:
10. Char-Broil TRU-Infrared Charcoal Grill
(Best for Small Family)
With a 360-square inch grilling chamber, this charcoal grill suits small families. The kettle grill has three legs for a convenient standing cooking style.
Its most prominent feature is infrared technology. This advanced function cooks foods more even at a higher temperature. Besides, it blocks hot and cold spots on the grilling space and raises the cooking speed while using less fuel.
You can lift the domed lid through a hinge to check the foods inside and enjoy authentic flavors. Adjustable grilling grate can manage the heat intensity if you raise or lower the grate.
Besides, you can clean up with a hassle-free ash bowl after cooking.
Key Features:
TRU-infrared cooking system
Hinged lid with mounted temperature gauge
Removable ash bowl
Adjustable damper and 360-degree air inlet
Come with a bottom rack, wheels, legs, and handles
Pros
Make nice grill marks
Tend to be higher at around the edge to prevent foods from falling off the cooking grates
Fuel-saving
Solid construction
Control the flare-ups efficiently
Simple to pull the grill with wheels and locks
Quick to heat up
Easy to assemble
Clear instructions
Labeled parts for ease of positioning
Cons
The grill could be leaky when raining
Only one handle on the top lid
Ceramic could chip and flake, even rust over time
Product Specification:
| | |
| --- | --- |
| Brand | Char-Broil |
| Materials | Porcelain-coated cooking grate, chrome-plated wire bottom shelf, and porcelain-enameled finish |
| Shape | Spherical |
| Warranty | Ten years |
Listen to more reviews about this charcoal gill by clicking the following video now:
11. Char-Griller Side Drawer Charcoal Grill
(Best for Small Patio)
This classic charcoal grill has a 250-square inch cooking space, suits small places, such as patios, gardens, decks, and backyards.
Made of heavy steel and cast-iron, you can cook with this product without worries about the construction and durability.
You can serve three or four people at once. Its high performance allows for grilling fast to save waiting time.
It has side air vents to control the heat and keep the temperature inside the chamber not too hot.
Besides, you feel cool when using a heat-resistant handle. A bottom rack helps you place cooking utensils or charcoal if needed, while you prepare your fresh ingredients on the side shelf easily.
After use, you use a removable ash pan to dump ashes quickly and keep the grill clean as possible.
Key Features:
Freestanding style
A side drawer included
Come with a cool-touch handle, a side table, a bottom shelf, and side air vent
Adjustable dampers, a dumping ash pan, four legs, and two wheels
Pros
Simple to use
Quick to clean after cooking
Durability
Perfect for grilling and barbecuing
Easy assembly
Nice looking
Use less charcoal, but still create a sufficient heat amount
Easy to move the grill around with portable wheels
Excellent heat distribution
Cons
Poor instructions
The heat and smoke could leak around the door
Lack of a grease collector so that the grease tends to drip on the ground
Do not have a built-in temperature gauge
Legs could wobble
Product Specification:
| | |
| --- | --- |
| Brand | Char-Griller |
| Materials | Cast-iron cooking grates, side drawer, cool wood handle, powder coating, heavy steel construction, and wooden side shelf |
| Shape | Rectangular |
| Warranty | Five years |
Watch the video below to see an ideal space for placing this grill and how to assemble it:
12. Weber Copper Charcoal Grill
(Best for Outdoor Kitchen)
Weber offers a classic charcoal grill combined with a cart containing a preparation space, a storage area, and a charcoal container. Trust me, and it is appropriate for outdoor cooking activities with a professional design.
With over 300 square inches wide, its grilling surface can serve for a crowd at a time. It has a removable LCD cook timer, helping you set a reminder to check or handle your foods.
Besides, a thermometer enables you to maintain a steady temperature. A large shelf provides you a perfect surface for food preparation or necessary items storage.
This product features the one-touch cleaning system to clean dust, drippings, and ashes quickly without any hassles.
Furthermore, you can use adjustable dampers to control airflow to the charcoal. When you finish cooking, close the dampers to put out the charcoal and keep the grill safe for the next grill.
Key Features:
Electronic Touch-N-Go
An ignition system
One-touch cleaning system
An ash catcher included
Removable LCD cook timer and a built-in lid thermometer
Adjustable dampers
3D interactive assembly instructions
Come with a shield handle, a lid placement, and grilling hooks
Fit up to 13 hamburgers
A cart style with four wheels
Pros
Feature a huge workspace
Simple to store charcoal
Prevent the charcoal from re-igniting after finish
Hard to melt, even in a hot weather condition and the grill is cooking at a high temperature
Easy to assemble
Sturdy build
Provide more stability rather than a simply kettle
Convenient to access fuel with no interruptions to the cooking process
Quick to start the grilling activity
Easy to clean with an ashtray, just slip off and dump
Cons
Heavyweight
Bolts or nuts could pop out
Lack of the top lid on the charcoal bin
The bottom rack space is taken up by a bin, an ashtray, and tools hanging too much
Do not have markings on the lower vent slider for showing the levels of opening or closing of the vent
Product Specification:
| | |
| --- | --- |
| Brand | Weber |
| Materials | Porcelain-enameled bowl and lid, aluminized steel one-touch cleaning system, aluminum ash catcher, painted metal table, wire bottom shelf, no-rust aluminum vent, a glass-reinforced nylon handle, and heavy-duty cooking grates |
| Shape | Spherical |
| Warranty | Ten years |
How to operate this charcoal grill? Click the video below now for more details:
13. PK Grills Capsule Shape Charcoal Grill
(Best for Steaks)
Made of cast aluminum, this charcoal grill can conduct the heat four times better than steel products. You will get tender, delicately cooked steaks with an authentic grilled flavor, thanks to a hibachi-cooking style.
This device retains temperature efficiently and provides uniformity of heat radiation. It also reduces charcoal consumption.
With the aluminized body, you can use without worries about rust and challenges when cleaning. The grill is designed to cook flexibly, no matter how you cook.
You can regulate four vents for airflow and temperature adjustment. You can grill steaks more simply, thanks to the convection supported by the aluminum hood.
It supplies with wheels for portability. You should carry it anywhere for picnics or camping.
Key Features:
A unique capsule shape
A four-point venting system
Two zones cooking
Come with dampers, a side tray, and a carriage
Hibachi grilling style
A combination of a charcoal grill and a smoker
Awarded winning charcoal grills
An aluminum body
Pros
Powerful heat radiation
Rust-resistant
Long-lasting use
Compact design
Portable to use and transport
Easy to adjust vents for heat convection
Create a perfect smoked taste
Quick assembly
High-quality materials
Make nice char marks
Cons
Quite heavyweight
High price
Product Specification:
| | |
| --- | --- |
| Brand | PK Grills |
| Materials | Cast aluminum construction, aluminum side and bottom trays, and rubber wheels |
| Shape | Capsule |
| Warranty | Ten years |
Watch the following video to know more reviews about this charcoal grill:
14. Old Smokey Aluminized Steel Charcoal Grill
(Best for RV)
This barrel-designed charcoal grill is one of the most suitable products for your RV, thanks to its design and portability.
This barrel can retain heat and smoke inside the cooking space. Thus, your food is moist, tender, and delicious. It is tall enough to prevent the risk of burns since it is placed over the fire.
It is only 19 pounds weigh so you can lift and take it anywhere you want. Carry it in your RV for picnics and camping. It has two side handles for lifting. That would be great.
Made of aluminized steel, this device delivers you amazing durability. Besides, the grill can withstand strong winds, assuring you while cooking.
Key Features:
Made of rust-resistant aluminized steel
Made in the USA
The barrel design with tall stands
Come with dampers, adjustable vents, side handles, and legs
Pros
Lightweight, compact, and portable
Low price
Well-design with a barrel body
Heat up fast in a few minutes
No mess when dumping ashes or charcoal
Retain heat for many hours efficiently
Easy to use
Quick to assemble
Perfect for tailgating, picnicking, and other outdoor cooking
Cons
Lack of a temperature gauge
Not space-efficient
The grill is not as durable as advertised
Product Specification:
| | |
| --- | --- |
| Brand | Old Smokey |
| Materials | Rust-proof aluminized steel, chrome hardware, and wooden side handles |
| Shape | Barrel |
| Warranty | Two years |
Click the following video now and enjoy amazing results by grilling with this charcoal grill:
15. Char-Griller Texas Style Barbecue Charcoal Grill
(Best With Side Smoker)
This charcoal grill includes a main cooking chamber and a side firebox, helping you enjoy a Texas-style barbecue. Are you ready? Let's experience tender meat with a smoky flavor from burning charcoal.
This product is economical for most people. If you do not know how to use a charcoal grill so far, this device is a perfect solution for you to try since it is effortless to use.
The appliance creates an even heat dispersion, thanks to its heavy-gauge powder-coated steel and cast-iron design.
You can clean ashes quickly with removable charcoal drawers. For the next grill, refilling charcoals is as easy as the way you removed them prior. It has side shelves for additional prep space.
Besides, cast-iron cooking grates give you nice grill marks and reduce food-sticking on the grates after use.
The grill is equipped with a thermometer to check the precise temperature whenever you need it.
Key Features:
Texas-style barbecue
Solid build
Come with a temperature gauge, a storage rack, and two wheels
Removable charcoal drawers, side shelves included
Air vents and a heating grate
Double-bottom
Pros
Effortless to use for beginners
Quick to load charcoal
Impart a smoked flavor when grilling
Convenient to monitor the temperature immediately
Minimize rust, corrosion, and crack
Easy of cleaning
Portable to move the grill around or travel
Budget-friendly
Simple to assemble
Excellent storage space
Distribute the heat inside the smoking chamber evenly with the convection
Cons
The paint could peel off prematurely
Require a frequent maintenance process
Smoke tends to be leaky a bit
Not achieve the high heat resistance as expected
Poorly packaged
Product Specification:
| | |
| --- | --- |
| Brand | Char-Griller |
| Materials | Heavy-gauge powder-coated steel construction, non-stick cast-iron cooking grates, and wooden side shelves |
| Shape | Rectangular |
| Warranty | One year |
Discover this charcoal grill at the moment by watching the following video:
Necessary Tips for You to Buy a Suitable Charcoal Grill
After reading reviews, this section plays a role as a buying guide for considering your own choices. I hope you will narrow the selection range to come to the best product.
Size
Undoubtedly, the size is the most critical factor you should think of thoroughly before buying a charcoal grill.
If you usually cook for your couple, family, or a small group, it would be better to pick a grill with a small or medium cooking space. This design allows for grilling faster with an even heat distribution in a limited chamber.
On the other hand, you should buy a large-sized charcoal grill since it suits a crowd, a big party, or other large numbers.
Temperature Control
If you are confident in controlling the fire and adjustable vents, you might select a grill with or without a thermometer. It is excellent if you can estimate the heat inside the cooking room by your experience.
However, a temperature gauge is perfect for monitoring the heat. You check whenever you want since everything is under your control. Just read the temperature indicators, and adjust if needed.
In general, grills that include a thermometer is more expensive than other products.
Durability
Charcoal grills are made of different materials, such as steel, aluminum, chrome, or cast-iron.
If you do not have sufficient budgets, you can choose cheaper, constructed materials. You do not need to perform regular maintenance, but they cannot use for the long-term.
On the other hand, the best way is to find high-quality materials, such as heavy-duty steel or cast-iron. They are regularly tested to ensure the highest durability.
Ease of Cleaning
This is a considerable factor affecting your decision.
Most charcoal grills include an ashtray, an ash collector, or a side drawer. It raises the convenience of the cleaning process after cooking.
Notice that you might see grease escapes and falls off on the floor, resulting in challenging stains. To deal with this issue, you should find grills that have a grease collector. You will not regret it when investing in it.
Portability
Portability is a great advantage of a charcoal grill. You should buy a lightweight product with portable elements, such as removable parts, mobile wheels, and convenient handles.
Besides, vents are adjustable, grilling grates are easy to spin, and the heights are simple to raise or lower for heat control, all of them are what the portability requires.
How to Use a Charcoal Grill?
Starting the cooking process with a charcoal grill is effortless, but not everyone knows. In general, there are twelve steps to follow.
If you use the grill regularly, you can shorten some steps if needed. However, I encourage you to perform all the steps for perfection.
Here is an instruction for you to do step-by-step:
Lay briquettes in a chimney;
Set up the fire starter by dipping a piece of newspaper in cooking oil, then putting it at the chimney bottom;
Light the chimney with a match or an igniter. You light the piece of newspaper and let the fire burn the charcoal in about twenty minutes;
Lay the charcoal under the grilling grates;
Divide the grilling surface into two heat zones as a quick and slow cook;
Clean cooking grates with a stick wrapped by a rag, which is dipped in the water prior;
Put more wood chips to raise the grilled taste;
Once the grill is hot, place foods on the surface;
Close the top lid, if needed;
Adjust the dampers for temperature control;
Monitor the temperature with a thermometer;
Cover the grill. When finishing, take the ashtray out and dump ashes.
How to Clean a Charcoal Grill?
Regular cleaning of the charcoal grill is crucial to maintain a stable operation of the grill, with the expectation of long-term use.
I highly recommend you a list of what you should do to clean up the grill efficiently:
Re-check necessary cleaning supplies, such as a grill brush, foil, plastic bags, and a putty knife;
Clean cooking grates and charcoal grate with a grill brush;
Scrub with aluminum foil;
Clean the grill bottom and the top lid by brushing or wiping any debris left behind, and then dumping ashes in the ashtray;
Scrape off any peeling black stuff with the putty knife;
Re-install parts of the grill.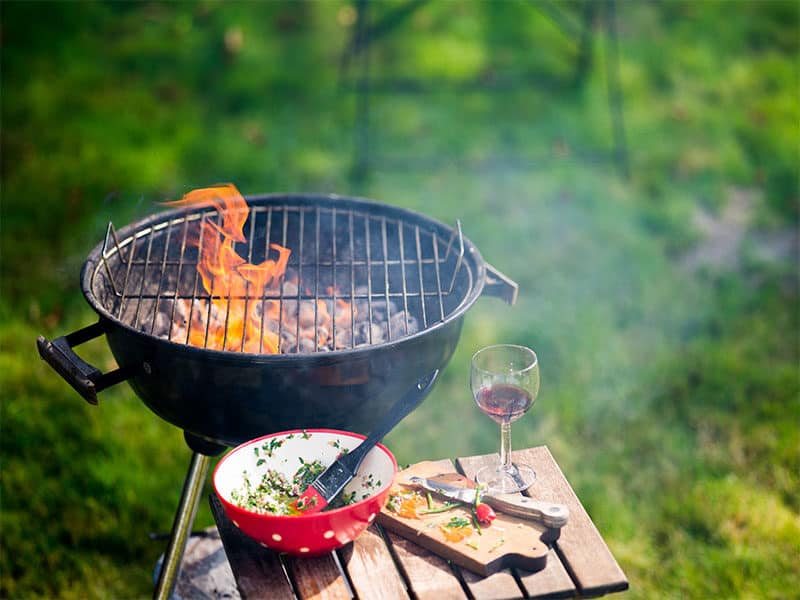 How to Maintain a Charcoal Grill?
This is a noteworthy part of your maintenance process. Do not skip the below tips unless you want your charcoal grill to be damaged.
Check your ashtray frequently to know whether it is full or empty of ashes;
Brush the grilling surface before cooking;
Season the grates to protect the grill from food-sticking;
Brush the grate one more after use.
You should follow these maintenance guides to use the grill as many times as possible or even many years.
What Are the Best Charcoal Grills Brands?
Many famous names on the market have provided charcoal grills. A fiercely competitive picture shows that this is a very potential item with many improved functions.
In this section, I show you three of the popular brands to present the brand diversity of this grill line.
Weber
The Company's target is to create new values for all customers. It is proud of its roadway with specific points, such as delicate food creation, attractive cooking creativity, and excellent kitchen appliances production.
Currently, everyone can see its products easily, including charcoal grills, electric grills, gas grills, wood pellet grills, charcoal smokers, portable grills, gourmet BBQ systems, and other cooking tools.
Char-Griller
The Group is proud of providing consumers high-quality cook devices at a reasonable price. It proved its name as a dependable and trustworthy brand for many years.
It developed its product lines on the market and received plenty of positive reviews from cooks, homemakers, and even people who are not passionate about cooking.
Strategic cooking appliances of the Group are charcoal grills, dual fuel, kamado grills, flat cast-iron gas griddles, three-burner gas grills, and wood pellet grills.
Char-Broil
High capacity, perfect cooking system, and fried perfection, the Corporation has brought everyone worldwide modern products with constant innovation and creativity.
Since it launched the first charcoal grill on the market, the Corporation has produced other devices, including offset smokers, charcoal smokers, TRU-Infrared gas, gas grills, natural gas, hybrid grills, electric grills, and portable grills.
FAQs
This part shows you questions and their answers. Maybe the details below you do not know or are confused about. This is your opportunity to deal with them before making a decision.
My Top Pick
I hope that what you read in my article will help you make the right buying decision. It is time for you to choose the best one. I believe you will not regret your own choice.
I pick Weber Kettle 22 Inches Charcoal Grill since it has a premium body, retains the heat efficiently, works with a high capacity, and is portable.
How about your selection? Could you share with me, please? I am glad to hear your ideas about the best charcoal grills today.
Like, comment, and share with your family and friends right now.
Do not hesitate, let's get it!