Smoked meat is very delicious, with an authentic taste. You can cook BBQ, pork, and ribs for a crowd with just a good charcoal smoker. Hence, you need to find the best charcoal smoker to make your meal taste better.
The charcoal smoker is a perfect device for picnics, camps, and other outdoor cooking activities. You can place it into your car when traveling, carry it easily, and set it up for convenient cooking.
However, it is not easy to choose a charcoal smoker, although these products are diverse on the market with different performance and competitive prices.
No worries, my reviews will help you pick the best equipment. Do not miss the information below and useful videos.
Let's get to it!
What Is Charcoal Smoker?
A charcoal smoker is a cooking device that creates tender meat with a full of flavor. It cooks meat with indirect heat. It smokes the meat for many hours at low temperatures while the coals are burning.
To cook delicious meat properly by using a charcoal smoker, you need to set up charcoal and add water. Therefore, the meat is cooked evenly with consistent moisture.
Generally, the temperature of the charcoal smoker should be adjusted between 220°F and 250°F.
A charcoal smoker often has four main parts: a firebox, a water pan, a cooking chamber, and a lid.
The firebox contains coal in which the heat is generated. The charcoal burns to smoke meat. The briquettes are stacked tightly to increase the burn performance.
The water pan control temperature by cool liquid filled. It keeps temperature not getting too hot, and it creates steam that makes cooking more quickly.
The cooking chamber is filled with your food. You can put the food on cooking grates.
The lid keeps the smoke inside. Hence, the meat is fully permeating. The lid features a vent to allow steam and smoke to escape in some cases.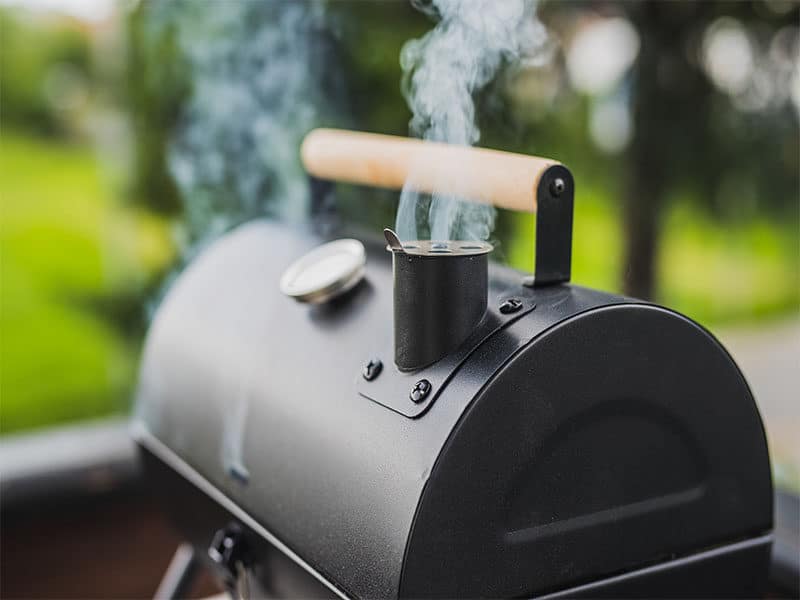 Differences Between a Charcoal Smoker and a Charcoal Grill
Both devices cook meat with charcoal to create a distinctive flavor. However, the primary difference is the heat mode.
Firstly, while a smoker is an indirect heat with a low temperature, a grill is direct heat with higher temperature.
A separate space is designed for the smoker to let charcoals burn in one area while the meat is placed in another area. The temperature is often set up between 220°F and 250°F as an ideal heat.
By contrast, the grill cooks meat above the burning coals. It is an open grilling space. The heat might reach to over 500 degrees in some cases.
The smoker is primarily for cooking ribs, barbecue, and pork, while the grill often cooks fish, steak, and chicken.
Here Are The Best Charcoal Smokers For You:
Top 15 best charcoal smokers are listed below for you to consider. Each device has its characteristics. Read the information before pulling down the review section.
Best Charcoal Smokers Comparison Chart
The summary below lists the best charcoal smokers mentioned above. It gives you the most intuitive overview of the overall 15 products.
Top 15 Best Charcoal Smokers Reviews 2021
In this part, reviews describe every aspect of the best charcoal smokers. Besides, both the pros and cons are indicated for you to understand about products much better.
1. Weber 726 Square Inches Charcoal Smoker
(Best Overall)
This charcoal smoker is capable of keeping a stable temperature for hours. Trust me; its performance makes you satisfied. Besides, the reputation of Weber will make you more secure in the product quality.
Its design is very professional. The lower part contains the charcoal ring and adjustable vents that control airflow efficiently.
The middle part consists of a water pan, cooking grates, and a door designed to add charcoal and wood chips. The upper part is a dome lid with an equipped thermometer.
You can use this device for your family, a big party, or any large crowd.
You cook a turkey, or large pieces of pork, ribs, and barbecue without worries about the final results because a porcelain-enameled water tray is equipped for keeping your meat tender and moist properly.
You can use a side access panel to add fuels while the meat is still cooking. A smart damper helps you control the inside heat without lifting the lid.
Key Features
Three main parts with individual functions
Small footprint
Adjustable vents
An access door
The built-in thermometer
Two premium cooking grates
A porcelain-enameled water tray
A damper system
Pros
Simple to assembly
Work efficiently
Succulent, delicious meat with a full of flavor
Smoke large amounts of meat simultaneously
Convenient to use vents
Easy to clean up the grills
Reasonable price
Ideal for moving, traveling, tailgating, or camping
Rust-resistant parts
Perfect size
Durable
Cons
The thermometer does not always give accurate results, it sometimes not functions
The door might not prevent a small amount of smoke from escaping
Hard to store the hood on the charcoal smoker while cooking the food
Product Specifications
| | |
| --- | --- |
| Brand | Weber |
| Cooking grates | 2 |
| Cooking space | 22 inches diameter |
| Material | Nickel-plated cooking grates, porcelain-enameled water tray, aluminum fuel door |
Stop and watch the video below to see how to use this charcoal smoker:
2. Masterbuilt 395.4 Square Inches Charcoal Smoker
(Best Budget)
If you are looking for an affordable charcoal smoker but still have perfect features, this product is your choice. It has a suitable size and is simple to operate.
This device contains a porcelain-coated pan, two smoking racks, and a water bowl. A lid thermometer allows you to read temperature more accurately.
You can add charcoals for burning through a front-access door.
This smoker is appropriate for grilling chicken and any type of meat. You can use it for picnics, tailgate parties, or even teaching how to cook to anyone.
The top lid has a convenient hook so you can hang it on the smoker's side, which is excellent for checking your meat.
Key Features
Vertical design, small size
Two porcelain coated smoking racks
A front-access door
Built-in lid thermometer
Porcelain-coated charcoal pan and water bowl
Pros
Simple to assemble
Low price
User friendly
Easy to fire up for a few minutes
Perfect for a small-sized crowd
Convenient to carry for journeys and camping
Easy to put additional fuels
Compact storage
Useful to control smoke penetration
Cons
The space for charcoal is limited
No lower vents
The thermometers read temperature is not always correct
The water bowl is too shallow, so it quickly burns if you do not add water frequently
The smoker cannot hold sufficient charcoal for a long cooking process due to the too-small charcoal pan
The damper attached on the lid is very poor
Product Specifications
| | |
| --- | --- |
| Brand | Masterbuilt |
| Smoking racks | 2 |
| Materials | Porcelain-coated smoking racks, porcelain-coated charcoal pan, and water bowl |
See the short video below to know exciting details related to this charcoal smoker:
3. Dyna-Glo Black Charcoal Smoker
(Best Offset)
You can cook your food without worries about much heat loss when adding charcoal because this smoker has two doors for a cooking area and a fuel chamber. A perfect design of Dyna-Glo delivers ideal cooked meat.
Made of heavy-duty steel, you can trust the construction of the device. The vertical design helps the heat and smoke rise without hassles.
Dual doors make you add charcoal easily without reducing the heat. Vents allow you to control temperature efficiently.
This equipment consists of a wide-sized grill and multiple grates so you can cook more meat for a crowd. Besides, you can mix a large amount of meat for your meals through a big cooking space.
The design helps you optimize indirect heat, perfect for slow-cooking, and infusing smoke flavor. The product keeps the heat away from your meat. Hence, the meat placed on the lower racks is not cooked too quickly.
You also trace the temperature with a stainless-steel thermometer.
Key Features
Vertical style
15,000 BTU Burner
Electronic pulse ignition
Six cooking grates
Large cooking area
An adjustable flue
Dual door design
A custom-fit Dyna-Glo premium cover
Smokestack vent
A stainless-steel thermometer
Pros
Simply assemble
Adjustable racks are removable to clean up quickly
Hold the heat for hours
Easy to add more charcoals without disturbing the cooking process
Control smoke flow efficiently
Durable materials
Easy to operate
Cons
Hard to move around because the smoker does not have wheels
The smoker might not prevent leaky smoke from going out so you should use high-temperature silicone
Low-grade thermometer
Some small screws that keep the firebox from sliding off the damper might fall out when placing vertical cabinet and fuel chamber side-by-side
No water pans
Product Specifications
| | |
| --- | --- |
| Brand | Dyna-Glo |
| Smoking area | 784 square inches |
| Cooking grates | 6 |
| Smoke flow | Smokes up to 100lbs of food simultaneously |
| Materials | Heavy gauge porcelain-enameled steel wood chip box, heavy-duty cast iron burner, heavy-duty steel body construction with high-temperature powder coat finish |
| Warranty | 1 year |
Discover this charcoal smoker by clicking the following video right now:
4. Dyna-Glo 36-Inches Charcoal Smoker
(Best Cabinet)
This charcoal smoker has a robust-designed style in which you can adjust the height of cooking grates for various types of meat. An ample cooking space will create meat with a smoky flavor for your family.
You can cook more than one type of food at a time because the smoker offers up to four grates.
It is equipped with a double door to prevent the heat from losing while you try to access your meat and additional charcoal. You can put more coals through a separate compartment without opening the lid.
An ash pan is removable. You clean the dirt by removing the ash, then dumping it out.
The charcoal chamber keeps briquettes stack tightly. Hence, charcoals burn while smoke is still intact in the smoker.
You can check the heat flow immediately by a temperature gauge. This part points out an ideal heat level to ensure the flavor remains well in a smoke area.
Key Features
Vertical cabinet unit
Four cooking grates
Charcoal & ash management system included
A custom-fit Dyna-Glo premium cover
Stainless temperature gauge
Smoke zone
Pros
Simple to maintain and clean
Not capable of leaking because the smoker has seals attached on the outer edges
Many grates, huge cooking area, adjustable-height grates
Durable, premium materials
Easy to read current heat amount and the appropriate temperature for infusing smoke flavor
A water bowl is very accessible
Hold the heat well
Useful instructions
Cons
Some dents might appear
Hard to assemble because the unit is too heavy
The smoker sometimes fails to reach the desired temperature from 220 to 240 degrees when it is cold
The lid seems to be useless
The low-grade handle of a smoke damper
Refill water more often
Product Specifications
| | |
| --- | --- |
| Brand | Dyna-Glo |
| Size | 36 inches |
| Cooking grates | 4 |
| Materials | Stainless-steel temperature gauge, porcelain charcoal chamber, heavy gauge porcelain enameled steel water bowl and chip box, cast iron burner |
Do not pull down without watching the video below about this charcoal smoker:
5. Char-Broil American Gourmet Charcoal Smoker
(Best Portable)
Char-Broil delivers a perfect charcoal smoker with two wheels for locomotion and two stationary legs with square bottoms for system stability. The device is a beautiful choice for moving around and standing anywhere quickly.
It has two cooking surfaces in the main chamber for indirect grilling and the firebox chamber for direct warming. The main room is spacious to cook a large amount of meat at the same time.
The grates are adjustable at various heights so you can use them flexibly. Additional trays hold water and wood chips to create a more excellent flavor for your food.
You can place prepared food or utensils on the side shelf simply. Besides, you feel safe with a hot lid when in use by chrome-plated handles.
The vertical chimney vent controls the heat into the chambers. The lid consists of a temperature gauge and a built-in damper so you can check whether the smoker works well or not.
Key Features
3-in-1 charcoal smoker, including offset smoker, BBQ, and charcoal grill
Horizontal design
The cooking area in the main chamber and firebox chamber
Adjustable height grates
Clean-out door
A built-in damper, extra trays, a side shelf, and cool-touch handles
A chimney vent and a temperature gauge
Pros
Easy to move around, stand stably
Height-adjustable cooking grates
Efficient smoking performance
Versatile side holding shelf
Heat-proof handles
Simple to remove ash without a mess by a clean-out door
Hold smoke well
No leaky heat or smoke
Cons
Heavyweight
The hinges may be bend
The welds seem to be loose
Low-quality paint peels
Incorrect thermometer
Difficult to assemble
Product Specifications
| | |
| --- | --- |
| Brand | Char-Broil |
| Warranty | 1 year |
| Materials | Sturdy steel unit, porcelain-coated grilling grates, chrome-plated handles |
Listen to more reviews about this charcoal smoker by discovering the following video:
6. Dyna-Glo Signature Charcoal Smoker
(Best Vertical)
Made of heavy-gauge steel, this smoker has a sturdy body with nice touches. The vertical design helps infuse smoke flavor easily and control the heat efficiently.
The device has an offset heat box so you can cook meat while smoking in the main chamber. That's so great. The sensors operate efficiently. The ash pan is designed as a handy drawer for cleaning dust simply.
You can move this equipment easily by oversized steel wheels. The smoker has five large grates, some racks, and meat hooks in the main box, so it helps you cook any type of meat with different styles.
The temperature gauge provides you the ideal heat to infuse the heat amount for creating distinctive flavor when cooking. You can access charcoals and meat without worry about getting hot with cool-touch handles and a spring lid grip.
Key Features
Vertical unit
Five chrome-plated grates
Heavy-gauge steel body
Stainless temperature gauge with a smoke zone
Heat-resistant handles
Cool-touch spring lid grip
Oversized steel wheels
Pros
Well-designed construction
The heat is offset from the meat
Seem that there are no leaks
Keep a good temperature
Portability
Good grilling capability
A versatile pull-out fire tray
Simple to clean up
Cons
The bolts on the door are wear and tear over time to use
Large footprint
The thin steel coated housing is hard for heat retention so the smoker might lose heat quickly when adding wood for burning
Product Specifications
| | |
| --- | --- |
| Brand | Dyna-Glo |
| Style | Signature Smoker |
| Cooking grates | 5 |
| Materials | Chrome-plated grates, heavy-gauge steel body, stainless temperature gauge, the coiled steel door handle |
Do not miss the video below and experience this charcoal smoker now:
7. Royal Gourmet 800 Square Inches Charcoal Smoker
(Best for BBQ)
If you confuse about a good charcoal smoker for BBQ, I believe that you are pleased with this device because it creates a dual style barbecue. It is a combination between a grill and a smoker.
The fuels are primarily lump charcoal, briquet, and wood chips to bring a perfect flavor.
The porcelain-coated grates help you retain the heat efficiently. Hence, your food is more tender and more evenly cooked.
You can use handles for height selection because the charcoal pan is adjustable. Therefore, you can control the temperature to cook any type of meat, seafood, and vegetables without concerns about the abnormal heat amount.
A vent is adjustable to control air and heat, and a thermometer remains an appropriate temperature level.
Besides, the smoker is equipped with new parts, such as a smoke stack, a seamless connection, an access door, and several hooks. All of them support you create a tender barbecue with an excellent flavor.
Key Features
A charcoal grill with offset smoker combination
Spacious porcelain-coated grilling grates
Removal charcoal and ashes pan
Ignition Type-No Ignition System
Smokestack, temperature gauge, scald-proof handle, seamless connection
Access door on the side, side air vent
Withstand temperature up to 400
Pros
Cook delicious BBQ
Huge capacity
The temperature gauge works correctly
Easy to assemble
Inexpensive
Simple to dump ashes
Very portable to transport
Lightweight
Heat up quickly
Have a very nice-looking in the yard
Cons
The bottom tray might be rusty and burned out after use
The paint may peel off
The smoker fails to stop a small amount of air and smoke from exiting
Product Specifications
| | |
| --- | --- |
| Brand | Royal Gourmet |
| Size | 30 inches |
| Main chamber | 438 square inches |
| Sidebox | 183 square inches |
| Swing-away rack | 179 square inches |
| Materials | Porcelain-coated cooking grates, new black coating body |
See the video and explore how this charcoal smoker is unboxed, assembled, and tested:
8. Cuisinart 18-Inches Charcoal Smoker
(Best Small Size)
This smoker is tiny and lightweight, but it has basic features to ensure your meat is tender, delicious with a distinct smoky flavor.
The main cooking chamber has two 18″ racks that provide 510 square inches of a cooking area. With a 32-lbs weight, you can move the smoker around flexibly while cooking.
Barrel and air vent design make it control the proper heat at about 225°F. This is a perfect temperature level for smoking any food.
You can use this equipment like an outdoor grill kitchen to create delicious smoked meat for a crowd.
Key Features
Two 18″ stainless steel racks
Porcelain enamel water bowl
Upper and lower vents
Latching base
Vertically hinged door
Steel housing
A thermometer on the lid
Pros
Simple to maintain and clean up
Low price
Easy to assemble
Hold an ideal temperature at 225°F for hours
Portable, perfect to transport
Compact storage
Save time to add more fuels
Cons
No guidebooks or user manuals
The smoker is leaky too much
The damper may be bent
Some rivets seem to be not fastened
Product Specifications
| | |
| --- | --- |
| Brand | Cuisinart |
| Size | 18 inches |
| Cooking racks | 2 |
| Materials | Steel housing, porcelain enamel water bowl, stainless-steel cooking grates |
For more details, click this video right now to know every aspect of this smoker:
9. Char-Broil Deluxe Charcoal Smoker
(Best Backyard)
This charcoal smoker receives many positive reviews for the perfect backyard BBQ smoker. Indirect cooking operates simply with a side offset box.
It is multi-purpose equipment with a smoker, a grill, and a barbecue device with a classic style.
You can see a professional design. The smoker has a large-sized cooking space, a side firebox, a deluxe grill, and a charcoal starter.
You can adjust the height of the main cooking chamber easily. The firebox helps remove ash for an empty area. You use its handles to keep away from getting hot. A storage rack allows you to place prepared ingredients, utensils, and extra coals.
This dual-action machine is suitable for a small crowd, your family members, and some friends. The device holds the smoke inside, helping you reach a distinct smoky flavor for backyard BBQs.
An adjustable chimney controls the heat close-at-hand.
Key Features
3-in-1 smoker, barbecue, and grill
Chrome-plated cool-touch handles
Multiple adjustable dampers
Storage rack
Adjustable chimney
Removable ashtray
Supply with wheels
Adjustable-height steel grate
Horizontal unit
Lid-mounted temperature
Pros
Easy to set up
Easily clean up ash
A standard version
Operate very well and stably
Wheels for mobility
Fill with 18 burgers
Multiple functions in just one design
Keep your hands cool when opening the lid
Cons
Easy to rust over time
The grates seem to be very thin for a long-lasting
Dust and hot grease hold onto the back of the lid easily, then they drip onto the ground when opening the lid. This happens so quickly that it is hard to prevent it
Charcoal tray warps in just a short time
No seals between the firebox and grill, no seals between the grill and smokestack
Hard to follow steps as the instructions
Product Specifications
| | |
| --- | --- |
| Brand | Char-Broil |
| Cooking surface | 670 square inches |
| Firebox chamber | 355 square inches |
| Warming rack | 140 square inches |
| Warranty | 1 year |
| Materials | Chrome-plated handles, all-black steel construction, porcelain-coated grates |
Discover this video and see how to assemble and operate the charcoal smoker now:
10. Char-Broil 605 Square Inches Charcoal Smoker
(Best Horizontal)
Char-Broil offers a medium-sized charcoal smoker in the form of a horizontal unit. However, you can fill the chamber with around 24 burgers.
The three-piece smoking chamber allows you to retain heat inside the cooking space while maximizing air loss.
You can check the heat easily with a readable temperature gauge. The device provides an offset firebox with a cleanout door on its side so you can take ash out conveniently.
The damper on the top helps you control smoke and heat. You can put prepared food on the storage space.
Key Features
3-piece smoking chamber
Porcelain-coated cooking grates
Lid-mounted temperature gauge
Firebox with cleanout door
Side shelf
Two 8-inch wheels
Pros
Keep the temperature efficiently
Easy to clean ash
Great size for a family
Simple to follow setup instructions
Very portable
Contain maximum of 24 burgers
Cons
The doors may be leaky
The paint might be flaked and peeled
The grates inside firebox places to a low position for long cooks
The finish perhaps brittle with a chipped sign
Product Specifications
| | |
| --- | --- |
| Brand | Char-Broil |
| Size | 30 inches |
| Main chamber | 477 square inches |
| Warranty | 1 year |
| Materials | Porcelain-coated cooking grates, sturdy steel construction |
Stop and see this video right now to enjoy the results of cooking by this smoker:
11. Pit Barrel Cooker Classic Charcoal Smoker
(Best for Brisket)
Pit Barrel Cooker offers a smoker with eight hooks to hang brisket while heating. Hence, your brisket is cooked evenly on both sides and more tender.
This vertical unit helps cooking time shorten because both the heat and smoke-infused vertically that direct properly on your meal. You fire it up and wait for a perfect smoked brisket.
Furthermore, racks and hooks allow you to use flexibly for creating an ideal cooking space. Besides, a coal basket is large enough to place a suitable amount of charcoal for a long cooking process.
The smoking time is shorter while you do not regulate the heat and smoke amount.
Key Features
A standard grate for grilling and searing
Come with a charcoal basket
Two hanging rods, eight stainless-steel hooks
Wooden hook remover tool
Vertical design
Point barrel stand
Pros
Slow-cooking, delicious meat
Space-saving but fill large amounts of food by racks and hooks
Simple to learn
No needs to regulate the temperature and smoke frequently
Cook meat in a shorter time than other charcoal smokers
Easy to carry or lift
Minimal assembly
Durable materials
Huge capacity
Cons
The lid might be bent when in use so the airflow can exit
The coal grate is not suitable for the optional bottom, so you have to clean ash with a mess
Some accessories of the manufacturer are sold separately, so you have to order them with incurred costs
No ways to access the cooking area for safety, so you should use BBQ gloves to keep your hands safe
No mobile wheels to transport more easily
Product Specifications
| | |
| --- | --- |
| Brand | Pit Barrel Cooker |
| Size | 1.5 inches |
| Hooks | 8 |
| Hanging rods | 2 |
| Materials | Gallon porcelain-coated steel drum, stainless-steel hooks, steel hanging rods, and wooden hook remover |
See this video below and find out more information related to this charcoal smoker:
12. Char-Griller Black Charcoal Smoker
(Best With Side Firebox)
With the title above, it is not hard for you to imagine how this smoker is designed. That's right. A side firebox supports the grill barrel efficiently because the firebox burns directly, and the main grill smokes to cook a delicious meal.
The equipment has removable charcoal drawers to put more coals and eliminate ashes. Besides, the double bottom is durable over time.
This barrel-style smoker is perfect for cooking Texas barbecue, and low-and-slow grilling. A broad cooking range allows you to cook large amounts of food at a time.
You can read the temperature gauge to know the heat amount immediately. Two wooden racks help you prepare fresh meat better as well as placing necessary utensils.
Key Features
Charcoal grill with side firebox
Removable charcoal drawers
Nonstick cast-iron cooking grates
Temperature gauge, storage rack, and two wheels
Double bottom
Pros
Easy to check and control the temperature
A large cooking area for a crowd
Simply remove ashes and dust
The smoking function works well
Easy to transport
Easy assembly
Convenient to place additional coals and dump ashes after use
Low cost
Cons
The smoker needs a few modifications for a maximum capacity
Not appropriate to frequent cook, may be rusted for years
Does not work efficiently as expected
The device is not tight, and the paint burns quite fast
The temperature does not distribute evenly
Low-quality grille
Product Specifications
| | |
| --- | --- |
| Brand | Char-Griller |
| Main cooking area | 580 square inches |
| Side firebox | 250 square inches |
| Materials | Heavy-gauge powder-coated steel construction, nonstick cast-iron cooking grates, powder coat finish |
Find out more about this charcoal smoker by clicking the following video at the moment:
13. Char-Griller Graphite Charcoal Smoker
(Best Grill Combo)
This small-sized charcoal smoker is a combination between a grill and a smoker with an insulated design for juicy smoked meat. It especially fits kamado-style grills.
The smart design uses more heat while less charcoal and airflow properly. Hence, you save fuels effectively. The device includes two folding side shelves that help you put food or cooking tools.
An indexed damper is numbered so you can check and note exactly its position. A locking lid holds the temperature inside and suitable moisture to create cooked food evenly.
An interesting part is a cart that helps the smoker stand with three legs. You can push the machine by mobile wheels.
Key Features
Insulated design
Two folding side shelves
Cart with three wheels
The indexed damper is numbered
Locking Lid
Double-wall insulation
Pros
Affordable price
Sturdy cooking grates
Efficient heat retention
Lightweight and portable
Perfect for cooking food as kamado grilling style
External space is very cool while you are cooking food at a high temperature
Premium materials
Cons
If you want to follow the low-and-slow cooking style, you have to buy a smoking stone. Thus, the cost raises for this item
The gaskets might leak when in use
Flimsy stand
Some parts of the smoker need modifications during the usage process
Product Specifications
| | |
| --- | --- |
| Brand | Char-Griller |
| Main cooking space | 314 square inches |
| Warming rack | 133 square inches |
| Folding shelves | 2 |
| Temp range | From 200°F to 700°F |
| Materials | Cast iron cooking surface, 22-gauge steel body, powder coated steel exterior finish, porcelain-coated steel interior finish, tubular steel w/rubber wheels, folding black metal shelves |
For more information, watch this video now to know about this charcoal smoker:
14. Portable Kitchens Silver Charcoal Smoker
(Best for Beginners)
You can easily recognize this charcoal smoker because of its capsule shape. It has four versatile vents so you can grill food hot and fast or low and slow easily.
Made of cast aluminum, this smoker conducts heat much better, compared to steel-built devices.
The cooking area is spacious enough to cook broad types of meat, such as ribs, pork, a turkey, or even a whole chicken. It controls airflow efficiently.
The equipment creates melt-in-your-mouth meat with an excellent smoked flavor.
It is very portable. You can use it for tailgating, picnics, camping, hunting, and fishing.
Key Features
Unique capsule shape
Four vents
Conduct heat four times more efficiently than regular steel equipment
Award-winning charcoal grills
Storage rack
Two legs and two wheels
Pros
Good heat retention
Suit outdoor-cooking and far transportation
Reusable coals in case you shut the heat down properly
Versatile to adjust upper and lower vents to reach a convection airflow
Cook food quickly with even heat
Rust-proof
Portable and easy to detach parts
Cons
The design is too tall, and the shelf is too low
No ways to adjust grilling position
Expensive
Not lightweight as advertised
Product Specifications
| | |
| --- | --- |
| Brand | Portable Kitchens |
| Shape | Capsule |
| Warranty | 10 years |
| Materials | Cast aluminum construction, cast aluminum charcoal grills, |
Click the video below and discover this charcoal smoker:
15. Masterbuilt Black Charcoal Smoker
This smoker is designed to use as smoothly as possible. It works based on the barrel grill and cabinet smoker.
It contains two grates to cook your meal simply. This smoker suits backyard smoking, camping, or tailgate parties.
You can enjoy food without worrying about how to clean after cooking. Surprisingly, the device is equipped with a grease cup and a dual door to solve your concerns.
The built-in-door gauge indicates the heat amount inside the main cooking space, so you just need to check when in use.
Key Features
Two chrome-coated cooking grates
Charcoal pan and water bowl
The built-in-door gauge
Side air dampers
Pros
Low price
Nice sliding racks
Seals are excellent
The smoker leaks both smoke and heat too much around the door
Easy to add coals and wood while keeping a stable heat amount
Convenient to clean with a grease cup
Cons
Thin sides
The vents take several adjustments
There are no clear instructions for seasoning
The thermometer does not provide correct results as advertised
Product Specifications
| | |
| --- | --- |
| Brand | Masterbuilt |
| Cooking grates | 2 |
| Materials | Chrome-coated cooking grates, porcelain-coated charcoal pan, and water bowl |
Key Buying Guide for a Wise Charcoal Smoker Choice
In this section, I provide you several notices. You should read thoroughly to pick a good charcoal smoker four your cooking.
Size
The size is considered one of the most important factors that you should consider before buying a charcoal smoker.
It depends on the size of the crowd that you want to cook.
If you use the smoker for your family member only, you should choose a small-sized smoker with a moderate capacity.
If you have guests and friends in a big party, the better choice for you is to select a larger smoker along with a higher capacity.
Budget
As you know, a charcoal smoker is not a cheap product. However, the better the smoker is, the higher the price.
I give you a tip about your problem.
You should consider what features you need for your cooking the most, avoid extra useful functions but do not need them.
Durability
Smokers and their parts on the market are made of different materials, primarily metal for its coated housing.
You should buy a smoker that use as long as possible with at least incurring problems.
If your budget is not sufficient for that device, you can find a few modifications to replace or upgrade lower-grade parts of your smoker. Hence, you will use it for a long time as expected.
Combine With a Grill
This element is relatively essential and dependent on your purpose.
If you have a separate grill, you only need to buy a professional charcoal smoker. If you want to buy a multi-functional device that includes both a smoker and a grill for more convenient, you should select a combo product.
Remember that multi-purpose equipment is more expensive than a dedicated smoker, but you can save time for the process from searching and buying another grill.
Portability
In general, the mobile charcoal smoker is lightweight, so you can take it for tailgating, traveling, and camping. Portable wheels help you move it easily.
If you often cook heavy meat, the better way is to place the smoker stand at a specific position. In this case, moving around by wheels is hard to perform and unnecessary.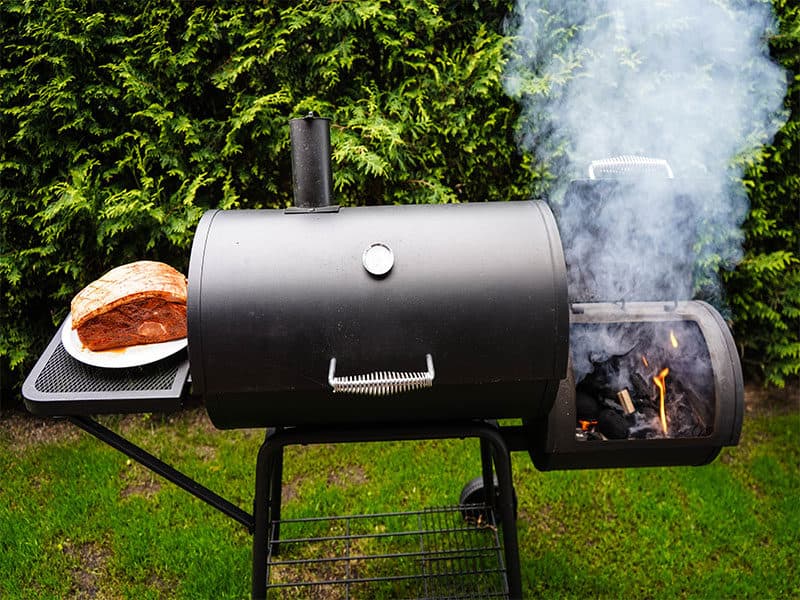 How to Use a Charcoal Smoker?
To use a charcoal smoker is easy, but not everyone knows the cooking process properly. Some ordered notes below are useful suggestions for you.
Prepare the Fuel: The charcoal briquettes are more suitable than lump charcoal because the generated heat is consistent, instead of too hot. You can soak wood chips in water for half an hour before using them to create a unique flavor.
Fill Cold Water Into Water Pan: Three-quarters full is typically applied.
Light the Coal by a Charcoal Chimney: If you have a chimney, you add lit coals in a charcoal smoker. If not, you can stack coals in a pyramid in the device; lighter fluid is suitable. Wait for coals to burn until a thin layer of white ash appears.
Add Food to the Grill: Put the meat on the grill grates inside the smoker. A smoker includes both upper and lower grates is better to cook more than one type of meat simultaneously.
Control the Temperature: Most charcoal smokers have a thermometer, remember to check the temperature from 220°F and 250°F for perfect cooking. Bottom vents are equipped so that air enters while top vents allow air to exit.
Add the Wood Chunks: Put wood chunks that are soaked in water, into the firebox among coals.
Keep Your Meat Cooked Long and Slow: The charcoal smoker cooks meat for hours. Trace the thermometer to ensure that your meat is evenly cooked.
Click this video and watch how a charcoal smoker works:
How to Clean a Charcoal Smoker?
To clean a charcoal smoker is necessary because this device leaves grease and organic matter after the cooking process. The following tips will help you keep smoker clean.
Before every smoke, after ensuring that all grills are cool, you scrape the grill grates, wipe the cool grills with a wet sponge, then throw away ashes.
Besides, you should clean the smoker deeply at least once a year. You scrape off grease and carbon clinging to the grill grates.
Then, you check the inside of the cooking chamber, remove buildup substances, including carbon and soot, and dry internal parts to reduce the rust.
Grease can be separated from the grilling area after you cook by flowing into a dripping pan, oil collectors, or aluminum foil sheets.
Lastly, you wipe the thermometer probe with a damp soapy sponge.
What Are The Best Charcoal Smokers Brands?
There are too many brands in offering good charcoal smokers on the market. This part only lists the most prominent brands, based on their reputations and experience for years.
Other smaller brands are potential competitors of large corporations. This competition creates an open market, so perfect smokers appear more and bring higher values to consumers.
Dyna-Glo
The Group is a well-known brand in providing a wide range of home devices. Its products are high-quality and exceed industry standards of both functionality and durability.
The primary machines of the Group are charcoal smokers, charcoal grills, natural gas, and electric smokers.
Char-Broil
The Corporation has built its brand for over 70 years with the first charcoal grill on the market. The highest target is to bring customers products with the best performance, cooking system, and fried perfection.
The famous devices of the Corporation are charcoal smokers, gas grills, TRU-Infrared gas, natural gas, charcoal grills, electric grills, hybrid grills, portable grills, and outdoor kitchens.
Weber
The Company is always proud of its innovative mindset and target of creating perfect food for everyone. It has been well-known as its heritage and future of the Company for over the years.
The strategic products of the Company are listed, such as charcoal smokers, wood pellet grills, gas grills, charcoal grills, electric grills, portable grills, gourmet BBQ system, and grilling tools.
FAQs
This part includes five pairs of questions and answers that many people are interested in. After reading them, I believe you will have your own choice.
My Top Pick
This is the final section of my article. I hope that you read all of the information that I provide. I think that you know what charcoal smoker you want to buy the most. I believe your buying decision.
I pick Weber 726 square inches Charcoal Smoker since it cooks meat evenly with an authentic smokehouse flavor while controlling airflow and heat efficiently.
Please like, comment, and share my post with everyone.
Without hesitation, let's do it right now.