Grilled dishes are always the perfect choice of many people at family meals, parties, and events. The best hibachi grills, which only spend a small amount of fuel, but bring very awe-inspiring results, will meet your needs.
This flat-top grill lets you merely put foods on the surface and start grilling. It is ideal for barbecue camping trips, or simply a compact indoor cooking device placed on your dining table or any small space.
Finding a hibachi grill on the market is very easy, but choosing the best one as your preference is much more difficult.
Why? Because each hibachi grill has several different features for the competition and ever-changing diversity innovation.
Without hesitation, let's scroll down to read!
What Is Hibachi Grill?
Hibachi grill is a cooking device that simulates a Japanese grilling style with a user-friendly design and portability as possible.
Hibachi grills have a simple design. They are flat-surface grills with no lids. They are powered by charcoal in their bowl. Hence, in Japanese, the concept of hibachi means the fire bowl.
This compact grill works through holding the charcoal to heat up, instead of using the quick-start ignition button or twist-start heating knob as other grills.
Besides, the hibachi grill is small and portable. Surprisingly, you can take the grill wherever you want since it is relatively lightweight for transportation and compact for space-saving.
Most of them are made of aluminum or cast-iron. The aluminum is less durable, but lighter and quicker to heat up than cast-iron.
The grill usually cooks strips of meat or any kind of small-sized food, such as wings, steaks, seafood, and hotdogs with an authentic charcoal flavor.
More notably, you can use adjustable grates height for flexible cooking and bottom ventilation holes for easy heat control.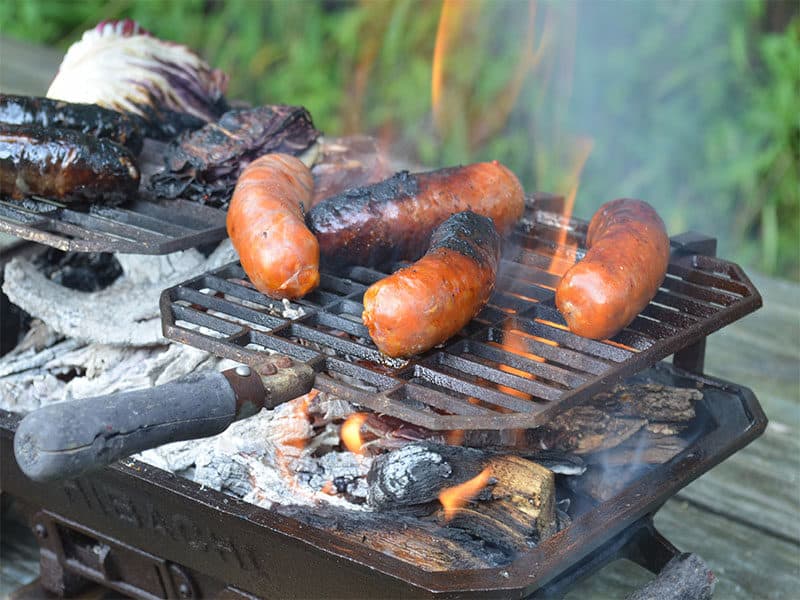 Types of Hibachi Grills
Traditional hibachi versions have been developed to more modern grilling appliances. However, the only feature of all hibachi grills that remains the same is the open design without lids.
There are three popular types of hibachi grills on the market now. You can distinguish them based on separate characteristics.
Hibachi Charcoal Grills
This grill type is compact, simple to use. Some of these grills have vents for heat adjustment. Most of them are large-sized design to let you burn two-level charcoal.
Lightweight, small-sized, portable, and inexpensive
Space-saving for use
Maximize smoky taste since your foods are relatively close to an open flame
Quick to grill
Made of aluminum or cast-iron
Feature grill on-the-go for tailgating, picnicking, and camping trips
Gas Griddles
This hibachi grill is mainly made of cast aluminum or stainless steel. It is powered by propane gas. It is more convenient to use than the original version but fails to achieve charcoal taste with smoke.
Provide heat evenly on the cooking area
Minimize flare-ups because grease and hot liquid are impossible to drop down the burner
Easy to put cooking pans directly on the grilling surface at the high temperature
More than one grilling spot
Supply with freestanding or built-in range
Teppanyaki Grills
In Japanese, "teppan" means plates made of iron, while "yaki" is grilling food. Hence, this griddle is a combination of an iron grill with a flat-top surface to create a new cooking way.
Besides, the teppanyaki grill provides a high entertainment aspect for marketing and commerce purposes if a cook wants to perform his grilling technique for guests.
Feature the freestanding configurations
Multiple spots for flexible cooking
Distinctive taste from the juices of foods
Here Are The Best Hibachi Grills:
In my article, I give 15 best hibachi grills for your consideration. This is the first part you should take a look to know the labels, names, and key points of each product.
Best Hibachi Grills Comparison Chart
Here is a quick roundup of the 15 best hibachi grills. Let's focus on their specifications and colors to compare, then remember them before reading each review.
Top 15 Best Hibachi Grills Reviews 2021
Now, you understand partially about hibachi grills. However, the reviews below show different characteristics of the best hibachi grills for your ease of choosing.
1. Lodge Pre-Seasoned Cast Iron Hibachi Grill
(Best Overall)
This hibachi grill is worth every penny because of its sturdy construction, effective heat distribution, and perfect portability.
It is made of solid cast-iron and is considered as an indestructible device. It resists the rust efficiently and is expected to use for the long-term.
You can cook flexibly with such a three-way adjustable model. The grill controls the temperature inside by adjusting the grate heights. Just raise or lower them to make the heat intensity colder or hotter.
This classic grill is compact and mobile for travel. You merely place it in the back of your car and take it anywhere quickly.
Besides, the grates are pre-seasoned so that you grill steaks, fish, beef, burgers, and veggies with a perfect flavor.
The product is removable for cleaning easily. What's more, it features a draft door for airflow control and a flip-down door for charcoal access.
Key Features:
Pre-seasoned cast-iron
A draft door and a flip-down door included
Superior heat retention
Two adjustable heights
Sliding mechanism enhances airflow
Pros
High-grade material
Simple to assemble
Pre-seasoned with 100% vegetable oil
Versatile to adjust grilling height
Easy to clean up
Very portable
Effective to regulate heat
Come with four stable legs
Feature a removable grill
Perfect size
Compact storage
Experience the sizzle while cooking
Creates nice grilling marks
Fuel-saving
Cons
High price
Quite heavyweight
Require the frequent maintenance
Need regular seasoning
Cheap handle
Lack of replaceable parts
Foods may slide off
Product Specification:
| | |
| --- | --- |
| Brand | Lodge |
| Grill type | Charcoal grill |
| Grill Category | Freestanding /Tabletop |
| Materials | A natural easy-release finish, and seasoned cast-iron |
| Adjustable heights | 2 |
Watch the following video to see how to assemble and grill steaks with this grill:
2. Weber 160 Square Inches Hibachi Grill
(Best Budget)
With a small cooking space, this grill is better for a small-sized crowd, including a family or some friends. Besides, the affordable price is suitable for the budgets of most people.
You can enjoy grilled foods with the Japanese hibachi-style by the excellent heat control. A flip-door allows for monitoring of fire intensity and accessing charcoal quickly. Furthermore, you adjust the grill heights to get a precise heat level.
This grill creates healthy meals since its coating excludes chemicals or synthetics. It is seasoned by pure vegetable oil. You will experience hibachi cooking comfortably.
The device has two independent dampers and three vents to control airflow for the charcoal. Besides, it works with less coal to heat up fast because its body is shallow.
You can take the grill on picnics, camping, or tailgating. The appliance is compact for narrow storage space.
Key Features:
Rectangular shape
Hold up to six burgers
Compact and lightweight
Porcelain-enameled lid and base
Come with a lid, dampers, and air vents
Durable plated steel cooking grate
3D interactive assembly instructions
Pros
Decent grilling space
Simple to use
Easy to maximize the breathing with three ventilation holes
Simple to retain optimal heat
Hard to peel or rust
Seasoned with the pure vegetable oil
Create an excellent smoky taste
Low cost
Cook very fast with a shallow cooking body
Versatile to store
Clear instructions
Ideal for slow-cooking style
Use less charcoal for fuel-saving
Cons
The materials are not as durable as advertised
The grill area is relatively small so that it might not feed for a large crowd
Weak legs, so that it may be bent and distorted over time
The device could melt the table you put it on since the legs are too short while the bottom fuel zone is very hot
Product Specification:
| | |
| --- | --- |
| Brand | Weber |
| Grill type | Charcoal grill |
| Grill Category | Tabletop/ Freestanding |
| Burners | 1 (disposable 1-pound LP cylinder) |
| Materials | Durable plated steel cooking grate, a glass-reinforced nylon handle, the nickel-plated legs, porcelain-enameled lid and base |
| Adjustable heights | 2 |
| Dampers | 2 |
| Air vents | 3 |
Click the following video and see the ways to assemble and operate this portable grill:
3. Marsh Allen 157 Square Inches Hibachi Grill
(Best for Indoor)
Affordable, efficient, and portable, this grill is perfect for indoor cooking activities where you cook delicious foods for a few members.
You can adjust grids with a wooden-touch handle. It is hard for wood to heat up while cooking so that you might ignore productive gloves. Besides, you monitor charcoal burning immediately with two versatile vents.
The grates feature a curve-shaped design on the outer edges, avoiding the foods to fall off the grill when you turn or flip them.
Cast-iron makes your foods with an authentic flavor. It is also ideal for seasoning. The adjustable heights provide you quick or slow-cooking options.
If you need to move it around, it is lightweight enough to take just a few seconds.
Key Features:
Three positions of adjustable grilling grates
Wood grid handles
Two adjustable vents
A curved shape on the outer edges
Come with a dual door
Pros
Budget-friendly
Easy to monitor the temperature
Convenient to move around
Work well
Efficient to heat up and retain the heat
Make nice grill marks on foods
Easy to clean and maintain
Perfect for seasoning
Powerful cooking capacity
Cons
Hard to assemble quickly
Low-grade construction
The handles may be cracked and burned
Product Specification:
| | |
| --- | --- |
| Brand | Marsh Allen |
| Grill type | Charcoal grill |
| Grill Category | Tabletop |
| Materials | Cast-iron coating and wooden handles |
| Adjustable heights | 3 |
| Air vents | 2 |
Watch the video below right now to learn step-by-step assembly of this affordable grill:
4. Fire Sense Foldable Hibachi Grill
(Best Portable)
This compact grill is designed to fold flat up to 1 inch wide for transportation and storage. Thus, it creates perfect portability for tailgating, picnics, or camping.
It is powered by charcoal for making delicious foods and full of smoky flavor. You can cook steaks, pork, hotdogs, and sausage simply.
You merely open the device for it to stand, then grill your foods. A charcoal rack helps you clean quickly after use, while a grill rack allows for making grill marks on steaks and large pieces of beef.
The painted steel coating highly resists the heat while cooking. It also offers a large cooking surface to grill any kind of food at once.
Key Features:
Supply with a charcoal rack and a grill rack
Fold to 1-inch flat
Made of the heat-resistant painted steel
Pros
Large cooking area
Easy to fold up in seconds
Re-open to initial set up quickly
Lightweight for traveling
Use less charcoal
Compact to place in the back of cars
Hold about six to eight hamburgers at a time
Efficient to work
No warping when in use
Affordable price
Cons
Poor design
Hard to assemble properly
Unstable grilling rack
Weak metal clasps to connect grates
Product Specification:
| | |
| --- | --- |
| Brand | Fire Sense |
| Grill type | Charcoal grill |
| Grill Category | Tabletop |
| Materials | High heat-resistant painted steel coating and chrome-plated grilling rack |
| Warranty | 1 year |
Discover the video below and check out this foldable grill at the moment:
5. Update International Smooth Cast-Iron Hibachi Grill
(Best Cast-Iron)
If you are looking for a hibachi grill made of smooth cast-iron, this product is a perfect choice.
You can place it into the center of a pu pu platter since it has an ideal size. Besides, a dark wooden base allows the device to stand stably.
It works efficiently with a set of grills. Furthermore, a holder helps you add and control fuel while cooking.
It is wonderful to cook Asian appetizers with the hibachi style. You can brush on olive oil before placing ingredients on the surface to create attractive foods.
Key Features:
Perfect size for a pu pu platter
Made of the smooth cast-iron
Elegant dark-wood base
Measures 3-1/3-inch diameter
Measures 4-inch height
A fuel holder included
Pros
Low price
Suitable for pu pu platters
Perfect for cooking various Asian appetizers
Safe when putting the grill into an oven at up to 500 degrees
High-quality material
Fire intensity is powerful enough to cook foods quickly
Simple to use
Easy to clean up after use
Very lightweight for carrying flexibly
Ideal for seasoning the olive oil
Cons
Not pre-seasoned
Impossible to cook large-sized foods due to its too small cooking space
Foods could stick on the grilling surface
Product Specification:
| | |
| --- | --- |
| Brand | Update International |
| Grill Category | Tabletop |
| Materials | Smooth cast-iron body and a dark-wood base |
Click this video and experience how to cook appetizers with this mini hibachi grill:
6. ISUMER Detachable Legs Hibachi Grill
(Best for Outdoor)
With the title above, it is easy for you to imagine one of the most prominent features of this hibachi grill. Congrats you, the product has four detachable legs for traveling or storing.
You merely insert its legs in just seconds and take it outdoor. The cooking area allows for feeding about five people.
The device has vents to regulate the heat and circulate the air efficiently so that you cook meals smoothly. You can use the side of handle to carry or move the grill around.
An ash catcher lets you clean after merely cooking. Adjustable heights deliver you more grilling options.
Key Features:
Four detachable legs
Made of thickness stainless steel material
Adjustable height and balance
Come with helpful accessories
The side handles
Ventilation spots
Pros
Easy to control the temperature
Legs are removable
Simple to clean
Stainless steel is resilient so that the grill is free of rust
Lightweight
Sturdy construction
Easy assembly
Quick to cook
Space-saving
Cons
Hard to retain the heat stably
Poor instruction manual
The grill bottom is relatively thin so that it may not hold the charcoal over time
Product Specification:
| | |
| --- | --- |
| Brand | ISUMER |
| Grill type | Charcoal grill |
| Grill Category | Tabletop |
| Materials | Thickness stainless steel model |
| Air vents | 4 |
See the following video and explore and kind of aspect of the compact grill right now:
7. Char-Broil Tabletop Hibachi Grill
(Best Tabletop)
This product is one of the best tabletop hibachi grills on the market now. I believe that it makes you satisfied with its design and portability.
With 190 square inches grilling surface, you can cook for a small-sized crowd. It is perfect for a family or a couple.
It can use charcoal briquettes or lump charcoal for the fuel sources. You can enjoy foods with an excellent grilled taste.
You can fold up the grill legs and close the lid as a suitcase for convenient travel. Besides, the model features high-grade steel coating for rust resistance and life extension.
The heat-resistant handles help you lift it easily, or keep it stably by hand while using other hand for flipping the foods on the cooking surface.
Key Features:
Versatile to add charcoal briquettes or lump charcoal
Chrome-plated steel wire cooking grates
Heat-resistant handles
A high-temperature finish
A drip pan included
Offer a lid
Pros
Impart grilled flavor
Well made
Simple to clean
Compact size for storage
Dishwasher safe
Come with a drip tray for catching excess grease
Generate direct heat effectively
Spend a small amount of charcoal
Foldable legs
Cons
Unclear assembly
Low-grade plastic handles
The paint could peel off over time
Product Specification:
| | |
| --- | --- |
| Brand | Char-Broil |
| Grill type | Charcoal grill |
| Grill Category | Tabletop |
| Materials | Chrome-plated steel wire cooking grates, high-temperature finish, and plastic handles |
| Air vents | 2 |
Do not skip this video to listen to more reviews about the tabletop hibachi grill:
8. Minnka Funnel-Shaped Hibachi Grill
(Best for Home)
This hibachi grill design is effortless. It seems to be nothing to assemble. You can cook meals at home with this model since its cooking space is ample enough for your whole family.
It is 240 square inch wide so that you can place large pieces of steaks, whole chicken, hotdogs, or pork on the grilling surface. You become a master chef with a hibachi recipe. That is so great for a home meal.
Charcoal or wood are perfect to use for fuel source in this grill. To place the device in a tight space is not a big issue.
You can put a cast-iron cooking pot on the grill surface. Its solid construction makes you handle without any hassles.
This appliance has a mortarboard to allow for burning charcoal simply because it prevents carbon and dust incur in the cooking process.
Furthermore, removable grates and an ash catcher help you clean quickly.
Key Features:
Folding grill set
Safe and healthy
Unique Humanization design
Airflow holes and the mortarboard
Come with an ash catcher
Carrying bag included
Pros
Acceptable charcoal and wood
Solid design
Possible to put cooking pots on the top
Simple set up
Easy to resist strong winds with a funnel-shaped grill
Versatile to fold in half for compact storage
Fast to heat up
Great to pack neatly in the carrying bag
Premium quality
Cons
Not easy to control the higher heat
The grill tends to slide
The charcoal basket may burn off while cooking since it is coated in the grease
Product Specification:
| | |
| --- | --- |
| Brand | Minnka |
| Grill type | Charcoal grill |
| Grill Category | Tabletop |
| Materials | Stainless steel unit |
| Air vents | 2 |
Watch this video to see the process of assembly, fuel access, and cook with the grill:
9. Blackstone Four Burners Hibachi Grill
(Best With Burner)
Blackstone hibachi grill offers 60,000 BTUs of heat with four powerful burners. It is an ideal propane grill for the hibachi cooking style.
It has a cooking area of 720 square inches wide to feed a large group or a big party. It includes additional side tables for extra storage area.
You can start grilling very fast with electronic ignition. All you need to do is to press the button. With four independent burners, you have various grilling options on the same surface.
Besides, it is easy to fold up for transportation. It has four wheels to move it outside quickly for backyard parties, tailgating, or camping.
It is made of a steel frame, helping retain and distribute the heat efficiently while cooking.
Key Features:
Feature a quick ignition button
Removable griddle top
Rolled Carbon 7-Gauge Steel Griddle Top
Four separate burners
The temperature settings
Come with four wheels
Side tables
Offer a built-in grease catcher
Pros
Ideal cooking surface for a large crowd
Foldable legs for compact storage and transportation
Quick to start the cooking process
Easy assembly
Clear instructions with specific steps
Simple to clean after use
Save time for fuel preparation
Free of rust
Helpful folding shelves
Cons
The grease tray is located in the wrong position since the grease escaping can miss such tray and drip down on the ground
Fail to achieve the smoky flavor for cooked foods
Product Specification:
| | |
| --- | --- |
| Brand | Blackstone |
| Grill type | Propane grill |
| Grill Category | Tabletop /Freestanding |
| Materials | Black powder-coated steel frame with cold-rolled steel cooking surface |
| Shelves | 3 |
| Burners | 4 |
| Cooking power | 60,000 BTUs |
Do not pull down without watching this video to know more details about this grill:
10. ISUMER 5-15 Servings Hibachi Grill
(Best With Stand)
This hibachi grill has two lightweight stands with a foldable feature to versatile storage and transport. When you fold it them up, the grill is almost no legs.
You can use this device without worries about its quality. The body is very smooth and fine. Besides, the adjustable heights and angles help you control conveniently.
The product has a sufficient cooking surface to cook for five to fifteen members at a time. You merely place steak, fish, hotdogs, hamburgers, and corn on the surface and experience a distinctly grilled taste.
The air vents allow for controlling the proper temperature while cooking flexibly.
Key Features:
Foldable stands
High-grade stainless steel
Adjustable heights and angle
Feed five to fifteen people
Non-stick square cooking pan
Provide three cooking grates
Come with airflow vents, a storage rack, and an ash catcher
The side tables
Pros
Portable to use
Foldable legs
The grates are pretty flat so that foods are close to the heat and easy to grill fast
Simple to clean
Perfect size for a big event
Quick to disassemble and reassemble
An even heat distribution
Reasonable price
Fuel-saving
Cons
Lack of instructions for assembly
Some parts of the grill could warp over time
Product Specification:
| | |
| --- | --- |
| Brand | ISUMER |
| Grill type | Charcoal grill |
| Grill Category | Freestanding |
| Materials | Stainless steel unit and a high-quality refined iron, non-stick grill pan |
| Shelves | 2 |
| Air vents | 2 |
For more details, click the following video and discover all aspects of the foldable grill:
11. Cuisinart 14 Inches Hibachi Grill
(Best Small-Size)
With only 2 pounds weigh, I believe you cannot find any other product that is heavier than this grill. What's more, it delivers a 150-square inch grilling surface to cook for a small family only.
The grill distributes heat evenly and quickly with a small space. You will control the optimal temperature and monitor charcoal efficiently with a dual vent system.
It is also equipped with three lid locks for safer transportation. It is very lightweight to take it wherever you want, such as patios, balconies, tailgating, or camping.
When you finish cooking, you merely take the ash catcher out to dump out. Cleaning becomes easier than you think.
Besides, the firebox withstands the harshest cooking conditions.
Key Features:
The chrome-plated cooking rack
Dual venting system
Three safe lid locks
Enamel coated firebox
Come with an ash catcher
Pros
Low cost
Simple to assemble
Lightweight
Portable for transporting
Flexible vents for the heat control
Easy to clean up
Excellent firebox
Cons
The grill seems to be flimsy
Too small cooking space for a large group
The grill could rust when in use
The paint may melt in a short time
The legs are relatively weak
Product Specification:
| | |
| --- | --- |
| Brand | Cuisinart |
| Grill type | Charcoal grill |
| Grill Category | Tabletop /Freestanding |
| Materials | Chrome-plated cooking rack, a durable enamel coated firebox, and the stainless steel coating |
| Air vents | 3 |
12. Cuisinart 5,500 BTU Burner Hibachi Grill
(Best Propane)
Although this product is not powered by charcoal, it has full of features of the best propane hibachi-style grill.
It has a burner with a grilling power of 5,500 BTU of heat. Hence, you cook for about six people easily. It is also compact and portable to use for tailgating, picnicking, and camping.
The handle is thick enough to keep you safe when cooking. The porcelain-coated grates can accommodate eight steaks, eight burgers, around ten chicken breasts, or fish.
This hibachi grill offers foldable legs to accessible transportation. Besides, you can start up the cooking process quickly since it uses propane as the primary fuel. It takes you a few seconds to preheat.
Key Features:
Porcelain-enameled grilling grates
5,500 BTU burner
Freestanding grill
The briefcase-style carrying handle
Supply with a drip tray
Gas regulator monitors
Pros
Very lightweight and mobile
The briefcase-style handle helps ease of carrying
Quick to start up with an electric ignition
Simple to clean the grates
Legs are foldable
The taste is equal to the smoky flavor on the charcoal grill
Dishwasher safe
Space-saving
Cons
The heat could exit freely through plastic parts of the unit
The burner does not operate efficiently as advertised
Take too much time for cooking with a cheap fuel
The collapsing stands
Product Specification:
| | |
| --- | --- |
| Brand | Cuisinart |
| Grill type | Propane grill |
| Grill Category | Tabletop /Freestanding |
| Materials | Porcelain-enameled grilling grates and the plastic handle |
| Warranty | 3 years |
13. Fire Sense Ceramic Clay Hibachi Grill
(Best Ceramic)
Unlike hibachi grills above, this equipment is designed by the ceramic clay. Ceramic is a perfect insulator for heat retention and even distribution while cooking.
You can see adjustable vents to monitor the precise temperature quickly. You can put all kinds of food on the cooking surface of 170 square inches. It is ideal for the Japanese grilling style barbecue.
It features wireframe legs to stand stably on a tabletop or the ground. You cook faster with a steady heat amount. Furthermore, the meat is more tender and delicious.
It includes a charcoal grate and a griddle for convenience. Let's take it anywhere to enjoy the smoky taste from the burned charcoal.
Key Features:
Offer a charcoal grate and a chrome cooking grill
Feature a handmade clay construction
Adjustable ventilation
Wireframe legs
Pros
Ample grilling area
Compact size and relatively lightweight
Low price
Perfect heat for searing
Excellent smoky taste
Easy to clean up the grilling grates
Simple to move the handling rack
Well packaged
Retain the heat for many hours efficiently
Easy to cook
Hard for foods to slide off the grilling surface
Cons
The clay body is not as durable as expected
The air vents are not long-lasting use
Impossible to use in the wet conditions due to its melting, such as rains or fog
Product Specification:
| | |
| --- | --- |
| Brand | Fire Sense |
| Grill type | Charcoal grill |
| Grill Category | Tabletop |
| Materials | Chrome cooking grill and the ceramic clay body |
| Warranty | 1 year |
Read more reviews and check out this grill now after watching the video below:
14. Party Griller 32 Inches Hibachi Grill
(Best Charcoal Grill)
Are you looking for a hibachi grill with a restaurant-quality design and an ample cooking space? Party Griller offers you this grill with the primary power source of charcoal.
This product is made of heavy-duty stainless steel for resisting rust and warp. It also has stood for cooking outdoor flexibly. Rounded edges protect your fingers from the risk of cuts.
I believe that a 256-square inch grilling surface is large enough for a whole family and many guests in a barbecue party.
Vents allow for managing an even heat intensity and supporting airflow circulation. Thus, you focus on cooking without worries about any hot spots.
The long rectangular grill is ideal for outdoor activities. Its legs are removable for easier transport.
More the Japanese style grill, this device can create foods with various cooking styles, including Malaysia, Thailand, and China.
You can make a moist and juicy barbecue with this portable grill.
Key Features:
Made of heavy-duty stainless steel
Stands included
Rust-free and warp-free
Rounded edges
Vents on both sides
Different cooking styles from countries
Come with two seasoning shakers, the scissor BBQ tongs, and stainless steel mesh cooking grates
Pros
Minimal assembly
Easy to control the heat
Removable parts
Large size for grilling
The grill is not shallow as several hibachi grills so that you place wood pieces and coals inside for burning quickly
Stands are foldable
Cons
The cooking surface could break off over time to use
Unstable stands
The steel is not thick and warp-proof as expected
Difficult to cover the entire grill space with the grill mesh
Product Specification:
| | |
| --- | --- |
| Brand | Party Griller |
| Grill type | Charcoal grill |
| Grill Category | Freestanding |
| Materials | Heavy-duty stainless steel inside and out, the stainless steel mesh grates |
Read more information about this grill by clicking the following video right now:
15. Mr. Flame Vintage Hibachi Grill
This grill is made of cast-iron and carbon steel for solid construction. It is the vintage hibachi model from the 1980s, creating an enjoyable feeling when using it.
The equipment can fold in half while legs can pack down conveniently. This design helps you place it in your car for travel and storage.
With two separate cooking surfaces, you can grill foods flexibly. The charcoals are lit independently, and the temperature of each side is different as your liking.
You can cook meals no more than ten minutes with this hibachi grill, thanks to the ingenious blast furnace and the chimney effect.
That is a perfect grilling device since you save fuel, cooking time, and budget.
Key Features:
The ingenious blast furnace and the chimney effect\
The convertible roasting oven
The vintage model from the 1980's
Made of carbon steel and cast-iron
Foldable design
Pros
Large cooking space
Easy to fold up for transportation and storage
Simple to cook
Versatile to convert into an oven
Cons
Possible to rust over time
Hard to control the fuel and heat amount in two separate grilling beds
The grilling pan is relatively shallow for flames to put out simply
Product Specification:
| | |
| --- | --- |
| Brand | Mr. Flame |
| Grill type | Charcoal grill |
| Grill Category | Freestanding |
| Materials | Carbon steel body and cast-iron cooking grates |
Experience this grill by watching the following video at the moment:
Useful Tips for Buying a Hibachi Grill
This buying guide is essential for you to choose an appropriate hibachi grill. You will cook meals with the Japanese grilling style if you have the best one.
Materials
This is the most significant factor affecting your buying decision directly.
Hibachi grills are made of cast-iron with the original version because of its durability. This type of material is highly heat-resistant and warp-proof. You need to season it and maintain it regularly.
You can use the traditional cast-iron hibachi grill for the long-term. This grill type creates a more distinctive taste for foods.
Besides, stainless steel and aluminum are materials of modern grills. These materials do not require frequent seasoning. However, they are not durable and heavyweight compared to cast-iron.
To reduce the risk of rust, wear, and tear, you should clean these light hibachi grills more often.
Fuel
Unlike modern hibachi grills, traditional grills use charcoal as the main fuel. You have to prepare charcoal bags and take too much time to set up fuel.
However, your results are perfect. You get an authentic smoky taste from burning charcoal, although you have to control the heat inside constantly.
For gas grills, you save time to preheat and manage the temperature conveniently. It is hard for you to enjoy the smoky grilled flavor with this propane hibachi grills.
Portability
This is one of the critical factors of a hibachi grill. If you want to take it anywhere for outdoor cooking, you should choose a portable grill as possible.
The portable hibachi grills are very lightweight for transporting and compact for space-saving. Besides, it has removable parts, foldable stands, detachable legs, adjustable grate heights, and neat package.
Cooking Size
You should pick a hibachi grill with suitable cooking space, depending on how many people you need to serve.
If you usually cook for your couple, your family, or a small group, the best choice is a hibachi grill with a medium cooking size.
In case you need a grill for regular events for a crowd, you should buy a product with an ample grilling surface of about fifteen people. You can cook for many people at once on the surface with this option.
Price
A cast-iron hibachi grill is better for durability and food taste, but it is much more expensive than other grills.
If you do not have a sufficient budget, you can consider selecting cheaper materials of a grill, including stainless steel and aluminum.
How to Season a Hibachi Grill
A hibachi grill is very easy to use since it is designed to cook simply as possible. However, not everyone knows how to season correctly. Thus, you should read the necessary steps below to avoid trouble while using.
Remember that these steps are particular to use for the cast-iron grill.
Check carefully to ensure that the grill is clean before seasoning;
Place pure vegetable, olive, or cooking oil over the surface of the hibachi grill;
Put the grill in an oven with the heat of about 350°F for one hour;
After one hour, keep the grill cool and finish the seasoning process.
Note that you should not put grease on the cooking surface, instead of oil since the grease includes salt for cast-iron corrosion.
How to Light a Hibachi Grill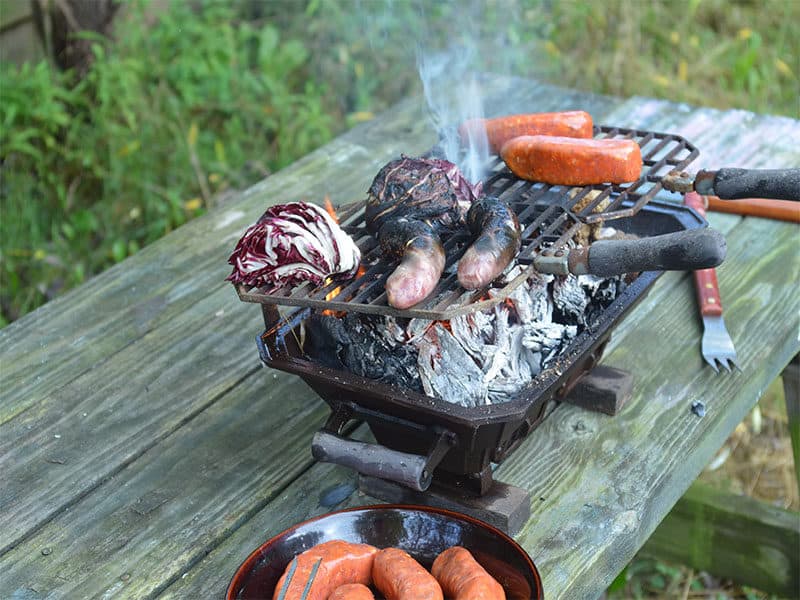 This part provides you steps to light a hibachi charcoal grill. If you use a gas grill, lighting is simpler. Just insert propane cylinder prior, and then press or twist the ignition button for the start-up process.
The following steps are appropriate for your charcoal grill:
Put charcoal in a chimney starter;
Stuff paper towels at this chimney bottom provided that you soaked them in oil beforehand;
Light such paper and the charcoal is ready to use in about ten minutes;
Once the coals are ashed, pour them in the hibachi grill bottom, and move the charcoals as your preference;
Adjust grilling heights. The hibachi starts to be hotter and is ready to cook;
Control the heat flexibly, and put your foods over the grates to cook.
How to Keep You Safe When Using a Hibachi Grill
You should know safety measures to experience the hibachi grill without any hassles.
Make sure the hibachi grill is far away from flammable materials;
Check that the surface under the grill is impossible to get fire easily;
Do not touch all sides of the unit with bare hands only;
Should not use the grill near the elderly and kids;
Prepare the emergency fire equipment near you, such as a fire extinguisher or a water hose.
What Are the Best Hibachi Grill Brands?
It is not hard to find a lot of hibachi grills on the market now, both traditional and more modern grills. Grilling barbecue with a hibachi grill is increasingly more popular. Thus, there are many brands involved in manufacturing this type of product.
In this section, I show the three biggest manufacturers with products that have won consumers' trust for many years.
Lodge
With over 120 years of experience producing high-quality cooking devices and accessories, the Company is proud of its manufacturing capacity and technology.
The Company has two foundries to make all products to consumers worldwide.
The main cooking appliances are hibachi grills, bakeware, skillets, ovens, griddle, pans, seasoned cast-iron cookware, and heat-treated cast-iron.
Marsh Allen
With global distribution, the Corporation has provided millions of products for outdoor enjoyment. It also updates décor trends to make new innovative equipment.
Many product lines are found, including hibachi charcoal grills, barbecue grills, charcoal grill black, and brazier charcoal grill black.
Char-Broil
The Group developed the first charcoal grill 70 years ago. Consumers know about Char-Broil with high-performance products, a stable cooking system, and perfect fried technology.
It has launched many devices on the market, such as hibachi grills, smokers, gas grills, TRU-Infrared gas, hybrid grills, portable grills, and other outdoor cooking appliances.
FAQs
Before deciding which hibachi grill you want to buy, take a look frequently asked questions below and their answers. I hope it is helpful for your final decision.
My Top Pick
I believe that you are confident in making your buying decision. Never choosing a hibachi grill is as simple as this time. You can read my post one more time if confused.
I choose Lodge Pre-Seasoned Cast Iron Hibachi Grill as it is made of high-quality cast-iron, retains the heat efficiently, uses fewer charcoals, and has perfect portability.
Do not forget to leave your ideas below to tell me what you feel about the best hibachi grills in my article.
Like, share, and tell your friends about my discussion.
Let's do it right now.